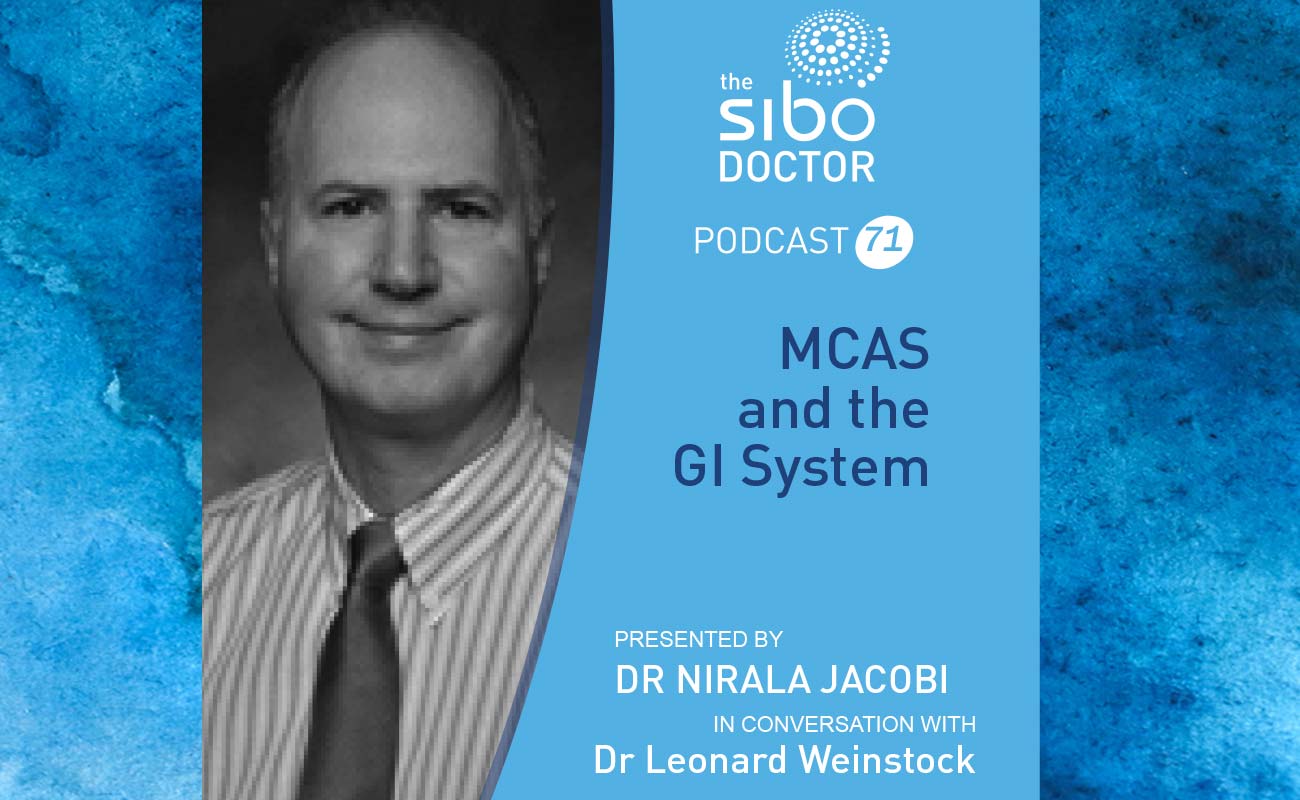 MCAS and the GI System with Dr Lenny Weinstock
In this episode, I talk with Dr. Lenny Weinstock about Mast Cell Activation Syndrome, or MCAS. Dr. Weinstock is a gastroenterologist and researcher known in the SIBO community for his expertise in SIBO and associated conditions such as rosacea and restless leg syndrome.
Links mentioned in this podcast:
Transcript
Dr. Nirala Jacobi:
Welcome to another episode of the SIBO Doctor Podcast. In this episode, I talk with Dr. Lenny Weinstock about Mast Cell Activation Syndrome or MCAS. Dr. Weinstock is a gastroenterologist and researcher known in the SIBO community for his expertise in SIBO and associated conditions such as rosacea and restless leg syndrome. And he frequently speaks on the topics at SIBO conferences. In recent years, he's also investigated MCAS or Mast Cell Activation Syndrome as it relates to GI disorders and has joined forces with Dr. Afrin a well-known MCAS expert to coauthor a primer for gastroenterologists for MCAS. And you can find a link to that document in the show notes of this podcast.
Dr. Nirala Jacobi:
I had to learn a lot about MCAS over these past few years because I started seeing patients with increasingly complicated medical histories. Patients who have a lot of GI symptoms such as classic SIBO symptoms as well as severe food intolerances, histamine intolerance, nausea and also unexplained and bizarre symptoms of dysautonomia, such as dizziness and vertigo as well as a host of other systemic symptoms that often don't respond to treatment.
Dr. Nirala Jacobi:
And partially that is due to their sensitivity to supplements and medications. When I interviewed Dr. Weinstock, the U.S Capitol had just been invaded by rioters a couple of hours before and we were both quite shaken up, which resulted in me asking questions in a very confusing and disjointed manner, more than my usual self I will say.
Dr. Nirala Jacobi:
For the first time since launching this podcast, I have to rerecord all of my questions as I really was a meandering mess. So as you listen to the podcast, please keep this in mind. I want to give a special thanks to Dr. Christabel a phenomenal integrative medical doctor here in Australia, specializing in MCAS and other chronic conditions who supplied some of the questions for this interview. And now let's get into MCAS.
Speaker 2:
Welcome to the SIBO doctor podcast, hosted by Dr. Nirala Jacobi. Medical experts join us to discuss functional digestive disorders, clinical practice, and research as it relates to SIBO and associated conditions. This podcast is intended for SIBO treating practitioners and aims to help educate how we may best serve our SIBO patients. Head over to the SIBO doctor.com and sign up to the SIBO mastery program and take your SIBO knowledge to expert level.
Speaker 2:
If you're a patient, you can sign up to the CBO success plan and beat SIBO for good. Please note, this podcast series is not to diagnose or treat medical conditions, ask your doctor before initiating any new treatments. And now over to Dr. Jacobi and the latest episode of the SIBO doctor podcast.
Dr. Nirala Jacobi:
Welcome back to the podcast Dr. Weinstock.
Dr. Lenny Weinstock:
My pleasure Nirala.
Dr. Nirala Jacobi:
Let's begin our discussion about MCAS by providing some context about what this syndrome is. So what is MCAS and why are we talking about it?
Dr. Lenny Weinstock:
Okay. Well, MCAS is a disorder that stems from an abnormality on one of our white blood cells, the mast cell. Now the mast cell does not circulate in numbers that can be counted in your CBC. It is something that lives in a precursor form or in early form in the bone marrow. And when the bone marrow is activated by signals from a number of different sources, let's say you burn your finger, the chemical changes that occur make the bone marrow release the progenitors of the mast cells and they travel to the site of the burn, and then they go there and they live in the skin there for a while and activate an important role in orchestrating healing and angiogenesis and controlling inflammation so they can live there for a long time, so that's the basic role of the mast cell.
Dr. Lenny Weinstock:
But what happens to somebody who's born with a mutation in the controller genes because the mast cell puts out all these chemicals and then may be one set of chemicals for one type of mast cell, another set of chemicals for another, but basically... And it depends where they live and where they gravitate to.
Dr. Lenny Weinstock:
But basically these mast cells have a controller gene, the kit gene, and that's on the wall of the cell. And if you're born with a mutation, then on a certain line of mast cells, then whenever those mast cells are popping out of your bone marrow, you will have uncontrolled release of chemicals. We call those mediators. And with that action, these mediators will do certain things. They will activate, let's say pain nerve fibers.
Dr. Lenny Weinstock:
They will activate histamine release and cause flushing. They'll release tryptase in the gut and cause pain and irritable bowel type symptoms. And then also as they release their chemicals, those chemicals or cytokines and mediators will activate normal mast cells. And those mast cells will then release more chemicals and release more damage and more problems in the body. So basically it's something that's acquired, there's some genetics, there's some epigenetics, there's some environmental factors that basically turn on an uncontrolled inflammatory mechanism and influence a person's life for decades.
Dr. Nirala Jacobi:
MCAS is difficult to diagnose as often standard tests such as serum tryptase has a high false negative rate. In the primer For Gastroenterologists that you co-authored with Dr. Afrin and a few other doctors, you mentioned other testing that can help diagnose MCAS and also discuss specific sample collection and handling criteria that can also result in false negatives if not properly observed. Can you talk about this?
Dr. Lenny Weinstock:
So many interesting points there? Well, first of all, the mast cells can toss out and produce very rapidly and excrete very rapidly over a thousand chemicals. And in the lab, we can only measure six different ones. And one of the ones, the best one is heparin, which you need a very very sensitive essay. And that's only in research labs basically. So you think about all the people who have easy bruising, which is such a common symptom. And the fact is that in the research lab, 70 to 80% of MCAS patients will have the positive histamine, I mean positive heparin test.
Dr. Lenny Weinstock:
So then you're left with a histamine and prostate gland in plasma measurements and those have to be run cold and then frozen right away while they're shipped off to their research commercial lab and the histamine and possibly endone basically have to be spun cold in a cold refrigerator, refrigerated centrifuge, or a centrifuge that has basically little jackets that are frozen and then the test tubes go into and spin around and then are sent off to the lab.
Dr. Lenny Weinstock:
Serum, tryptase and chromogranin are simple tests. And yet they may not be specific, especially tryptase, which is something that doctors are taught, Oh, that is a classic chemical that comes from mast cells because mastocytosis, which is a rare malignant disease, those patients all have high tryptase.
Dr. Lenny Weinstock:
Also, there's a misconception that high tryptase should be positive and tryptase levels should go up to certain percentage during an attack. But in fact in Dr Afrin's work in 400 patients, only 15% of patients had an elevated tryptase. And then there's also a genetic cause for high tryptase levels, which are maybe relatively common. Then you have urine tests, and those urine tests are 24 hour urine tests and there are three urine tests that can be done. They have to be collected cold and frozen.
Dr. Lenny Weinstock:
Now all the tests that I mentioned can have a differential diagnosis. And so that makes it even more complex. So you're going to have a high tryptase level because of this hereditary alpha [inaudible 00:10:21] or with mastocytosis, or you could have it with MCAS. And histamine levels can go up for a variety of causes raging from mold parasites to just an anaphylactic or a disorder of highs or to carrier. And chromogranin could be elevated for a variety of reasons, and many times it could be due to proton pump inhibitors.
Dr. Lenny Weinstock:
So just in my own experience about 70% of patients will have one or more positive tests. And then there are patients who I don't do probably what I should do, which is to have them come back during an attack and remeasure the test, partly because they're expensive. So often I'll say, okay, this patient has a lot of symptoms that are characteristic for mast cell activation. And then I'm going to see if they respond to treatment because our consensus to group which we wrote an article in the journal diagnosis spells out what Dr. Moulding first wrote about along with Dr. Afrin years ago.
Dr. Lenny Weinstock:
That you can make a diagnosis on clinical grounds with or without a positive mediator testing based on classic [inaudible 00:12:07], which does not unnecessarily require full access, but consensus one group requires along with response to mast cell medicine and or an elevated mast cell mediator and or a positive biopsy with mast cells in the tissue greater than 20 per high power field. So it's a disease that is challenging at times to make a diagnosis, but once you do it can change somebody's life.
Dr. Nirala Jacobi:
Which tissues concentrate mast cells and what symptoms and conditions are commonly associated with MCAS?
Dr. Lenny Weinstock:
Okay, well, first of all, the mast cell often lives in the environmental surfaces. So that would be the GI tract, the mouth, the nose, the GI tract, the skin the bladder, vagina, and those are basically exposed to the environment and that's where introduction of chemicals or food or environmental pollution, et cetera, can activate mast cells. So all these things play a role in how one presents depending on where you've got your mess out.
Dr. Lenny Weinstock:
So like the women with interstitial cystitis often have mast cells on biopsies of their bladder. And does that mean that they're just interstitial cystitis patients who have man cells living there? Well maybe, but you look into those patients too. They have other symptoms and syndromes, we'll say, okay. Let's say they've got chronic rhinitis and stuffy nose and sores in their mouth, irritable bowel syndrome. Well, then you have to start thinking broadly, well, this is probably a patient who could have mast cell activation syndrome, irritable bowel syndrome, extremely common.
Dr. Lenny Weinstock:
So in Dr. Afrin's experience of 400 patients that he reported in 2017, GI symptoms were really common nausea 57%, heartburn 50%, dominal pain 48%, chest pain, non-cardiac chest pain 40% alternating diarrhea constipation 36%, difficulty swallowing, which is often high up in the esophagus and throat 35%, sores in the mouth, very common. This is just general, all comers and many times these were people who you just saw for specific reasons. As a gastroenterologist, I looked at a group of patients who presented with refractory irritable bowel syndrome. And I looked for evidence for bacterial overgrowth with an abnormal breath test. And we reported that which was published.
Dr. Lenny Weinstock:
Then I looked at 140 patients and the GI symptoms were actually occurred prior to other man cell symptoms in two-thirds of them. And abdominal pain was 87%, bloating 74%, constipation diarrhea each 65%. And then we looked at the breath test. And it was interesting because basically there was abnormalities of SIBO with a typical hydrogen peak in 30% of the patients versus 10% of controls.
Dr. Lenny Weinstock:
Methane levels were commonly abnormal as well but basically it was statistically abnormal totally different from control [inaudible 00:16:46] hydrogen levels. And we looked in the paper there and we'll reason autonomic reasons of pots postural orthostatic tachycardia syndrome or Ehlers-Danlos syndrome. And we really couldn't find the link there, but therefore one thought was that these patients with mast cell activation syndrome who had SIBO may have dysautonomia due to secretion of mediators near those nerves, creating an imbalance and a sympathetic overload so that you are not getting good peristalsis and clearance of the small bowel.
Dr. Nirala Jacobi:
So MCAS in those instances is causing the dysautonomia and dysmotility then that causes SIBO. Further to the topic of diagnosis, can you discuss biopsy findings on the endoscopy and colonoscopy?
Dr. Lenny Weinstock:
Well, I still think there's a lot of controversy in this, even though I'm in the group that believes that biopsies are part of the diagnosis, I just find that this very prevalent. When you biopsy the duodenum, they live there. I mean, for years, people have seen it irritable bowel syndrome and increased number of mast cells. And is that because of the leaky gut and the mast cells get brought in because of that and then they just live there for a while and trigger the T-cells and B-cells to misbehave, or are those specifically compatible with the diagnosis of MCAS? And I think the answer is no. Biopsies, the problem is you can't do easily than a research lab, you can't do genetic testing to see what's classically abnormal and there are many, many different abnormalities and epigenetic changes.
Dr. Lenny Weinstock:
It's not just one gene change and you'd see that and you got a diagnosis of mast cell activation syndrome. So the problem is that outside of rare research labs in Germany, you're not going to be able to stain a cell and do genetic testing. And then they're common, very common. So there are big studies being done to see if it's more likely to be [inaudible 00:19:37] chemicals that makes it more characteristic for mast cell activation syndrome.
Dr. Lenny Weinstock:
I used to biopsy everybody that came in because I really was a believer initially. And then I was surprised that just about everybody had more than 20 mast cells per high power field. And I just couldn't believe that I was that good in selecting patients to be biopsied and being confirmed that their 20 symptoms represented mast cell activation syndrome. So I am going back to a more classical approach to want to see abnormalities in the chemicals before I'm really happy calling this somebody as having mast cell activation syndrome.
Dr. Lenny Weinstock:
So yes, if you let's say you've tested the patient with blood tests and you run test, and you're just not getting positives, you can go back to doing a biopsy, get the cell black and stain it for the CD117 stain and add to your diagnostic criteria by finding abnormalities, intuity and that may make you feel better about giving somebody a diagnosis but... And just today, I talked to a woman who I thought a year ago at MCAS at 30, and I did out of 11, nine out of 11 body systems and which was suspicious. But over the course of the year, everything's wax and wane, all of her allergic symptoms kind of got better and I became lessened, it gets to be a challenge. So if you've got a patient with elevated PGD2 and his domain and they have a lot of symptoms, you can feel pretty comfortable with the diagnosis.
Dr. Nirala Jacobi:
Given the difficulty with lab tests diagnosis of MCAS can you talk about making a clinical diagnosis based on the mast cell mediator release score the questionnaire that can be found at the end of the primer document. Listeners, again, you can find this document or link to this document in the show notes.
Dr. Lenny Weinstock:
Well, I have been doing that. And so that's the activation mediator release score is important, but what it tells you is are these patients having symptoms that are compatible with a mediator release syndrome? Let's say they've got allergic type symptoms of the itchy eyes burning, sore throat, ringing in the ears, they've got hives itching the skin, respiratory conditions like asthma and so on and so forth.
Dr. Lenny Weinstock:
And then you can combine that and then you get a total sum score for that. And then you can combine that with the chemical testing and with the biopsies to come up with a score. And if they're greater than 14 in five systems, then you could feel highly suspicious that there's a mediator release disorder. And with under the right circumstances, especially with the chemical testing that really is MCAS.
Dr. Lenny Weinstock:
This scoring also occurs for let's say mastocytosis. So you're going to have a patient who's got a smoldering malignant disease mastocytosis who will have a high score as well. But those patients usually have a very high tryptase level. So I'm actually doing a study to see if the scoring will hold up in controls versus documented mast cell patients in this study that I'm doing to see if I can replicate what Dr. Moulding did in Germany with this scoring device. So with this he validated these questionnaires in Germany and came up with the idea that if you had points of 14 or more, then a mast cell mediator release syndrome was present. And what I'm going to be doing is looking at controls versus mast cell patients to see if in America, it makes difference.
Dr. Nirala Jacobi:
Do we see more MCAS symptoms in systems that have more mast cell concentrations? For example, do patients have more Interstitial Cystitis or IC when more mast cells have concentrated in the bladder? If so, is it worth doing an endoscopic biopsy when the patient has minimal GI symptoms?
Dr. Lenny Weinstock:
Very interesting question. I would say that research has not answered that questions. Nobody has investigated that. So I can't answer that specifically. I would go back to the patient and or ask that patient who's experiencing, let's say I see symptoms whether their diet triggers their IC symptoms, because then I might be really interested in looking at their mast cell counts in their small intestine.
Dr. Nirala Jacobi:
Is MCAS associated with other connective tissue disorders besides EDS or Ehlers-Danlos.
Dr. Lenny Weinstock:
Absolutely. Well there are studies to show that if you do a biopsy again near somebody's joint as EDS, they're more likely to have mast cells than a normal person. And there are known growth stimulating factors that are secreted by mast cells. So we actually do think that they play a direct role in the growth of ligaments in patients who have Ehlers-Danlos syndrome in the hypermobile Ehlers-Danlos syndrome. And that this could therefore explain why somebody has more relaxed joints because their ligaments are elongated.
Dr. Lenny Weinstock:
And with respect to pots the many times you're going to actually do a study, at least a research study, looking at the autonomic nerves that the mast cells have but the autonomic nerves in a good percentage of pots patients. And that is the disordered release of mediators that make the autonomic nervous system malfunction. So, yes, I think there are direct causes for mast cell activation, and I've had so many patients who tell me that controlling their mast cell symptoms with meso-mediators had improved both joint pain to some degree especially with low dose naltrexone, but also dysautonomia.
Dr. Nirala Jacobi:
Given the complexity of this condition do you see your patients ever fully recover or will they always be sensitive to the triggers of MCAS such as excipients and medications, chemicals, heat, stress, et cetera?
Dr. Lenny Weinstock:
Great question. I mean, part of step one in treating people with MCAS is identifying the triggers and you've mentioned many of them but there's even more as there's chemicals and mold, there's atmosphere changes, et cetera. And when you can stabilize somebody you can get them to experiment more in their diet, and many of them can do well. But then I have so many that, will always be sensitive to gluten, always be sensitive to histamine but probably not to the same degree as if you can control somebody.
Dr. Nirala Jacobi:
Before we had a name for MCAS naturopathic and integrative doctors have long seen this syndrome to be associated with environmental contributing factors, such as environmental chemicals, overload toxicity, et cetera. Are we getting sicker or is MCAS on the rise, or are we just getting better at diagnosing this syndrome?
Dr. Lenny Weinstock:
If you look at the 2013 article by Dr. Moulding in Germany, he found that the utilizing the questionnaire... He found that of the population that he sampled 17% of the controls had evidence clinical evidence for mast cell release syndrome. And that if you look at the family history over half had a positive family history. So, I think that we're just recognizing more, we're seeing more... Now could chemical exposures and toxins in our environment cause increased epigenetic disorders on our man cells?
Dr. Lenny Weinstock:
I think that's certainly possible. And so, as we're living in a more toxic world we're, putting ourselves at risk for worsening symptomatology and frankly I think it is, I mean, I don't know. I mean, if it really is true, but I mean, I just see so many people now who are devastated by their multisystemic illness and these patients have been coming to me for 35 years where they don't have an answer for their irritable bowel syndrome.
Dr. Lenny Weinstock:
And did I just not ask and entertain all the symptoms and ask some about their asthma and hives and so forth. And the answer is probably guess, that I paid attention mainly to the GI symptomatology and, floundered around with some of these patients. But I'm also seeing so many more patients who are devastated by their brain fog and fatigue along with their chronic GI symptoms, that makes me think something is happening and something's going wrong in our environment, perhaps causing these symptoms to magnify and the syndrome to magnify because it's been around, it has to have been around for a long time.
Dr. Nirala Jacobi:
Getting back to the main triggers of MCAS, infections, stress, mold, some foods such as gluten and dairy altered microbiome, as well as heat. Can you elaborate on this a bit more?
Dr. Lenny Weinstock:
Mm-hmm. Yeah, well some patients just cannot stand to be out in the heat, and so I have one patient inclusive she goes out in the heat, her temperature goes up to 133. She flushes, she has a severe weakness and has to get into her wheelchair and she can get angioedema as well. So has it just outbursts from her mast cells in the heat? So global warming, that plays a role, global warming with floods and tornadoes and so forth. Hurricanes, we're getting flooding and more mold. And I think that plays a role in mast cell and I'm working on a paper now, a case series of patients who have severe problems with nausea and vomiting.
Dr. Lenny Weinstock:
And it was basically all due to mold on top of mast cells. And in one case where it was just mold triggering severe nausea and vomiting without mast cell activation syndrome. And a mold by itself can cause the mast cells to release chemicals and to be active. So we're seeing a lot of that. And the question is how to test and how to treat, gets more and more complicated, but at least to recognize the possibility.
Dr. Lenny Weinstock:
And then also with global warming we've got ticks that are not getting killed off in the winter. And so tick-borne infections are on the rise. So any infection whether it be viral can exacerbate MCAS and we're doing a research study on COVID looking at mast cell involvement whether or not just having MCAS that's not clinically recognized, make somebody at a high risk for severe COVID or post COVID syndrome.
Dr. Nirala Jacobi:
Let's talk about the effects of stress that's causing a highly dysregulated autonomic nervous system response that can trigger or exacerbate MCAS. I frequently recommend DNRS or Dynamic Neural Retraining System, as well as other therapies that directly work to rebalance the nervous system. I've seen this to be extremely effective in down-regulating symptom severity and in some cases almost remission of MCAS, what therapies do you recommend?
Dr. Lenny Weinstock:
Yeah. I have some patients who do yoga and meditation and they've been greatly improved by doing so. And I do have some patients who have done the DNRS and have done well.
Dr. Nirala Jacobi:
I had a very specific question regarding MCAS medications from a practitioner. If mast cells are more concentrated in the colon rather than the small intestine, would it be helpful to use time-release versions of MCAS medicines in that instance, so that more of the medication actually arrives in the colon and not be absorbed in the small intestine?
Dr. Lenny Weinstock:
Well, I haven't had personal experience but an Australian physician is doing just that and he reported good results. I will occasionally do that with budesonide in somebody who's having acute diarrhea and that's released more distally as a steroid in contact with these end of the small intestine and colon can do a good job in reducing inflammation. So, yeah, I think that's very interesting.
Dr. Lenny Weinstock:
When I do my biopsies the highest in general, the highest counter in the small intestine, duodenum and ileum, and then they're usually half the levels in the colon. So, definitely there certainly could be patients who have a higher number of mast cells in the colon. I haven't correlated with or tried to correlate it with a SIBO. I would say that treating SIBO can make a big difference in patients who have mast cell activation syndrome that they can eat better, they can heal their leaky gut and tolerate food better.
Dr. Nirala Jacobi:
Have you had any experience working with genomic influences on MCAS, such as methylation or histamine pathways and snips?
Dr. Lenny Weinstock:
I haven't done with respect to MTHFR, there was one physician who was doing a lot of testing of his patients and initially thought there was a difference and it made a difference, but it didn't pan out. So, I don't do that.
Dr. Nirala Jacobi:
Can you talk about the MCAS treatment hierarchy from MCAS and what you find is really helpful in your patients.
Dr. Lenny Weinstock:
I have the diet and then the H1H2 blockers start with those and ask them first if they have had problems with medicines before, ask them if they are allergic to pine trees. Believe it or not, that's one thing I asked because a lot of medicines are packaged in methylcellulose or cellulose. So that's a concern, they may not know it, but, there may be some severe seasonal allergies that you could go into and think about. And then add vitamin C and D and it takes time to get the vitamin C that I like, which is a sustained release 500. You can get sustained release 1000 anywhere, but 500 may be a better safer dose. And then after that and pretty quickly I'll usually start low dose naltrexone.
Dr. Lenny Weinstock:
And because it takes time for that to get up to the correct dose without giving so many too much of an endorphin rush and getting side effects from that. Quercetin can play a role in treatment. And so that's my step one. So you got two over the counter H1 blockers, H2 blockers, you've got vitamin C and D, can have quercetin in there and then low dose naltrexone. If somebody is very sensitive to medications I may elect to offer them compounded medication so that they're getting a med without any excipients, preservatives food coloring and packaging material. So that's step one for me.
Dr. Lenny Weinstock:
And then depending on their response, then you could look at other step one drugs, ketotifen which is compounded, cromolyn, which has some interesting things that I have to remark on. And a singulair, which has one potential issue with potential risk for anxiety disorders. Cromolyn is a trick drug. It can be great. It could be a magic bullet for some people, or it can be tough.
Dr. Lenny Weinstock:
The chromone that we have no longer as in glass ampules that comes in plastic, and some people are very sensitive the plastic might lead into the Chromone, and also sometimes Cromolyn will excite the mast cells until they get accommodated to it. It's supposed to be a mast cell stabilizer. So you have to give it very slowly, like half ampule or 50 milligrams once a day and gradually work up slowly. So you're getting 200 four times a day, and those are the step one drugs. And then in the article, we'll go into step two and three and lead up to the more intense drugs such as Xolair which is used for patients who have asthma or severe urticaria.
Dr. Nirala Jacobi:
You've mentioned Serum Bovine Immunoglobulins or SBIs before in your presentations. Is this something that you still use?
Dr. Lenny Weinstock:
No. Serum Bovine Immunoglobulin, SBI, that's more in patient who has a severe leaky gut, severe IBS-D in particular, who needs to bind the foreign invaders, bacteria or bacterial byproducts and bind them so that the gut can heal itself.
Dr. Nirala Jacobi:
All right. Well. I know that I have a lot more questions, but that's okay. We got through most of it. I think most of my questions have been answered there. It's just such an interesting condition that I'm still kind of blown away by how ill these people are that I'm seeing that have this condition and how recalcitrant to treatment. A lot of them are, so I really do look forward to finding more treatment options that really offer great relief for them. Thank you, Dr. Weinstock for once again for a fabulous podcast and all of your information and all you do for the SIBO community and obviously the whole GI community. So thanks again for your time today.
Dr. Lenny Weinstock:
My pleasure.
Speaker 2:
Thank you for listening to the SIBO doctor podcast. We hope you find the information in this episode useful in the treatment of your SIBO patients. Thanks to our sponsors SIBO test.com, a breath testing service with easy online ordering, and QuinTron the maker of outstanding breath testing equipment. Thanks again for listening.