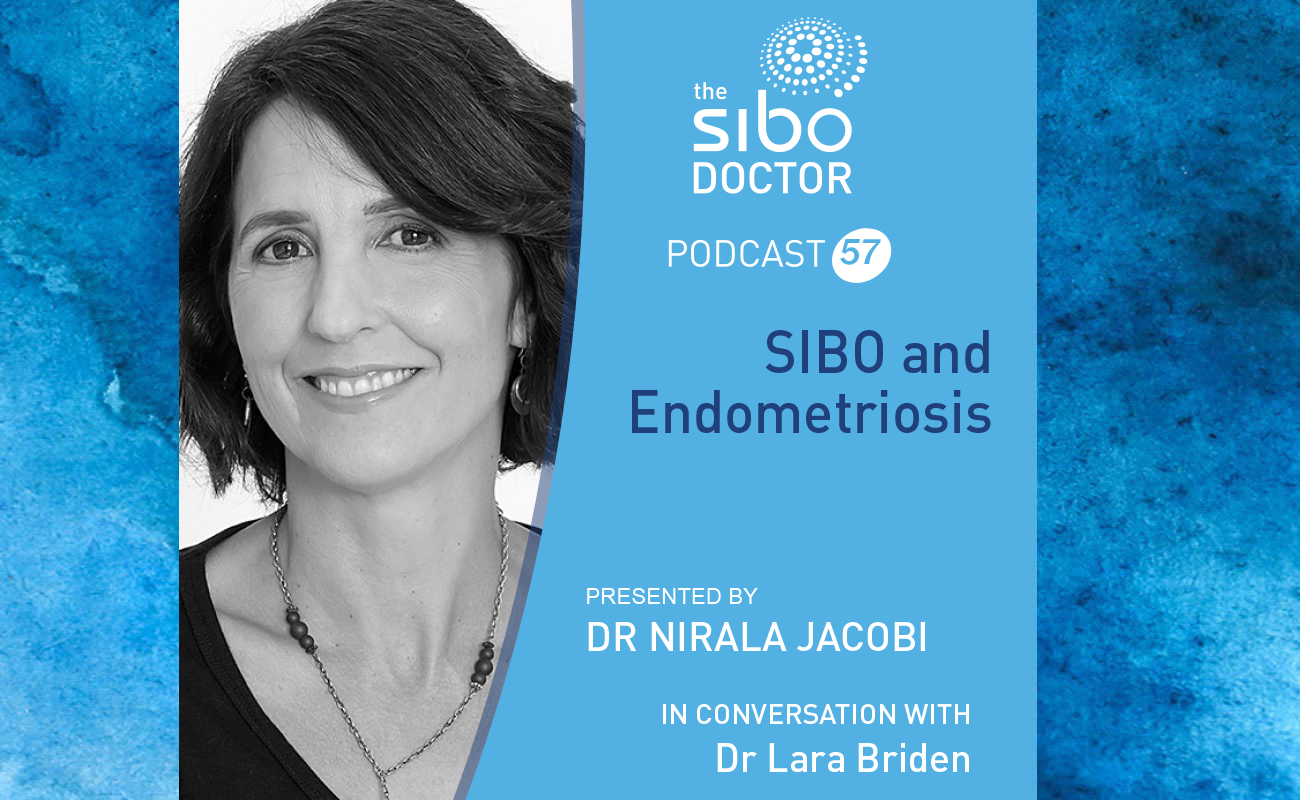 SIBO and Endometriosis with Dr Lara Briden - Part 1
Dr Lara Briden is a naturopathic doctor and the period revolutionary—leading the change to better periods. Informed by a strong science background and more than twenty years with patients, Lara is a passionate communicator about women's health and alternatives to hormonal birth control. Her book Period Repair Manual is a manifesto of natural treatment for better hormones and better periods and provides practical solutions using nutrition, supplements, and natural hormones. Now in its second edition, the book has been an underground sensation and has worked to quietly change the lives of tens of thousands of women.
Nickel Paper link: https://www.ncbi.nlm.nih.gov/pubmed/32012984
Dr Briden's website: https://www.larabriden.com
Transcript
Dr. Nirala Jacobi:
Welcome SIBO doctor practitioners to another episode of the SIBO Doctor Podcast. I'm with Dr. Lara Briden who's a naturopathic doctor and period revolutionary. Lara is passionate about communication about women's health and alternatives to hormonal birth control. Her book, Period Repair Manual is a manifesto of natural treatment for better hormones and better periods and provides practical solutions using nutrition supplements and natural hormones.
Dr. Nirala Jacobi:
She's been in practice for over 20 years. She's a naturopathic doctor. So really what we're going to be talking about today is endometriosis and its connection to SIBO. Many of you have heard me talk about the four different categories of underlying causes as to why someone might get SIBO, and endometriosis is right there at the top of the list because of its issues around adhesion formation. So welcome Dr. Briden.
Dr. Nirala Jacobi:
Dr. Briden is actually in New Zealand, so we're having all sorts of technical issues, so hopefully we can repair this as we go along. So Dr. Briden, first of all, how did you get into this field of women's health issues and hormones?
Dr. Lara Briden:
Well, I started out in more general practice, but I'd say close to 20 years ago, I started focusing more on women's health, women's hormones. It was mainly based on my patient base, women who were coming to me for help with periods, PCOS, endometriosis, perimenopause, and I treat some thyroid as well, and that just became my focus. Then as you say, about four or five years ago, I put that all into a book called Period Repair Manual, which has been really great to be able to communicate that with the world, able to communicate that these kinds of natural treatments can make a big difference for period health.
Dr. Nirala Jacobi:
Wonderful. You know, when it comes to endometriosis, there are some of us in the SIBO world that think that endometriosis is really a hidden condition that many people overlook this as an underlying cause of SIBO. But before we really dive into that topic, can you just give us an overview of what endometriosis really is?
Dr. Lara Briden:
Endometriosis is an inflammatory disease. I think that just needs to be stated. It's not a hormonal problem. It's an active inflammatory disease, primarily of immune dysfunction that involves inflammatory lesions usually throughout the pelvis, but they can actually occur anywhere in the body that will become inflamed of cycle through the month with the natural ups and downs of hormones.
Dr. Lara Briden:
They can be quite destructive. They cause pain. They can cause tissue damage. They cause scarring and adhesions, which you mentioned earlier. So of course, that can damage the gut, affect the gut, and endometriosis can cause infertility as well just from the presence of the inflammation, the scarring, sometimes just the anatomical blockage from the lesions of the tubes.
Dr. Nirala Jacobi:
So on a monthly basis and we often see young women with this condition. One of the things that I remember, I mean I used to do a lot of women's health before I moved to Australia also because it's so common, period disorders and period dysphoria and all those kinds of issues that women face. But endometriosis really is quite different than just let's say estrogen dominance although of course we see that often with endometriosis. But one of the issues there is scar formation and adhesion. Can you tell us how that actually occurs?
Dr. Lara Briden:
The scar, the adhesions form just from the inflammatory tissue damage from the disease and also sometimes from surgeries that are used to try to treat the disease to excise the lesions that can cause its own scar tissue. But I'd like to just zoom out a little bit actually and talk about the relationship between gut problems and endometriosis because they're highly correlated. I just wrote a little literature review about this where some of the studies we're finding, up to 90%, nine zero, of endometriosis patients have irritable bowel or some manifestation of bowel problems. So there's an incredible amount of overlap.
Dr. Lara Briden:
I just want to say at the outset, there's a few reasons for that. I mean I think there is overlap in symptoms. So sometimes clinicians aren't going to know it's the pain from the gut or from endometriosis lesions. So one can be misdiagnosed for the other. Then there's what you're talking about. Damage from the endometriosis can affect the bowel and lead to things like SIBO. And then there's the other direction as well, which is that issues in the bowel can drive or worsen endometriosis itself. That's an angle that I... A lot of my writing has been about that. Looking at ways to treat the gut to help endometriosis in that direction.
Dr. Nirala Jacobi:
That's fascinating. Can you talk a bit more about what you're finding with what the underlying drivers in terms of gut issues might involve when it comes to endometriosis?
Dr. Lara Briden:
Yeah, so there's a couple things. I'm just going to jump straight to the really juicy bits.
Dr. Nirala Jacobi:
Yeah. Let's get right into it. That's good.
Dr. Lara Briden:
Straight to the really juicy bits. So there's two things as clinicians to have on your radar. One is something called the microbial hypothesis of endometriosis, which is pretty new in the research, but there have been a few studies so far. Basically, what they're looking at is the high prevalence of gram negative bacteria and LPS, lipopolysaccharide within the pelvis, the pelvic cavity of women with endometriosis.
Dr. Lara Briden:
Most of the research that's finding that is saying that it's probably coming from translocation from the gut, i.e., gut permeability, intestinal permeability.
Dr. Nirala Jacobi:
Wow.
Dr. Lara Briden:
The bacterial toxins are leaking out into the pelvis. This is already a place where there are inflammatory lesions present and an immune system that is very primed to inflammatory disease. It's an inflammatory condition.
Dr. Lara Briden:
In fact, we know from some of the research that the combination of LPS plus the presence of estradiol plus a certain haplotype like the autoimmune haplotype, that is a perfect storm for endometriosis lesions. So that potentially gives us a way to intervene is if we can reduce... We can't change someone's genotype and we can't change the fact that there's estrogen present, but we can potentially reduce the presence of those microbes by improving leaky gut basically and your gut permeability.
Dr. Lara Briden:
That's one. That's called the microbial hypothesis. I might just jump straight to the other one and then we can look at the two. I just shared something on my Instagram yesterday. I don't know when this podcast is going to come out, but this is kind of new on my radar. So I'm mentioning this to you and love to get your feedback.
Dr. Lara Briden:
I have just come across this fascinating study out of Italy, brand new, at the end of January 2020 where they... It was a clinical trial study, a pilot study where they took women with confirmed endometriosis plus gut symptoms, which are pretty easy to find because like I said, it's a 90% overlap, and they screened them for nickel allergy and then they put them on a low nickel diet. Now, I was not aware that nickel allergy has actually been correlated with irritable bowel syndrome or IBS already, and so now this is a potential additional piece of information.
Dr. Lara Briden:
Basically, I think what the idea is that people with nickel allergy is about 10% of the population and it causes allergic dermatitis or inflammation with contact at the skin. What they're saying is that there's also some foods that are quite high in nickel and that's quite irritating for the gut. It's not exactly on the topic of SIBO, but it's still like a gut reaction. They found that of these endometriosis sufferers that they tested, 90% of them had a nickel allergy.
Dr. Lara Briden:
So I posted this. I mean I heard, I got a little comment back from Rachel Arthur, who I know you know, and another Australian naturopath and she said, "Yeah, nickel allergy is involved in a few things." And so I thought this was potentially quite interesting. Had you heard of that before?
Dr. Nirala Jacobi:
I haven't really heard about the IBS connection, but I do have a number of people who do have, and I myself have a nickel sensitivity too in jewelry and stuff. But the people that are always showing up on... You know, if we do a heavy metal assessment that do have high nickel. When I last researched this a few years ago, apparently also stainless steel cookware is quite high in nickel, so that's the only thing I remember from that conversation, but I haven't asked about nickel allergy. You know?
Dr. Lara Briden:
Yeah. It's different than a toxicity. I don't think the idea is that the levels are at a toxic level. It's that it's an immune system that is for some reason primed reacting to the presence of nickel. We can put this in the show notes if you want this study in your [crosstalk 00:11:20].
Dr. Nirala Jacobi:
Yeah, no, that'd be really good because... So what are they saying, is the driver of nickel causing endometriosis inflammation?
Dr. Lara Briden:
Yeah. Well, I think it's inflammation. I did read the whole paper yesterday. Yeah, they don't know. Of course, it's a small study, but I guess just to circle back to what I'm talking about, about inflammation in the gut or potentially LPS toxins as an example of an inflammatory substance from the gut influencing the immune system throughout the pelvis that aggravates or worsens this disease, which is an inflammatory disease, a disease of immune dysfunction.
Dr. Nirala Jacobi:
Yeah. I'm just kind of blown away that they would find gram negative bacteria within the pelvic cavity, which to me would be almost like peritonitis or something. You know? And even the mechanism of leaky gut, I just can't fathom how it would end up in the pelvic cavity and not in just circulation. So, that's really fascinating.
Dr. Lara Briden:
Well, it goes into the blood as well. But just to be clear, I mean the pelvis, the pelvic cavity has a microbiome, right? We have a microbiome almost everywhere, right? So-
Dr. Nirala Jacobi:
But in the peritoneal cavity? Like within that... We know about the vaginal, and I'm assuming uterine areas and I guess they're open to the pelvic cavity. So, yeah.
Dr. Lara Briden:
Yeah. Exactly.
Dr. Nirala Jacobi:
And so bacteria would just be translocated maybe even with retrograde menstruation if that's still on the radar for a possible etiology for endometriosis. Is that still-
Dr. Lara Briden:
It is. That goes back to the question of how do the lesions get there, the endometriosis lesions get there and retrograde menstruation was always the leading theory. Of course, that has been challenged from a number of ways. I suspected what it is, and I've heard a few people say this, I suspect there are different ways that the lesions can get there, whether they're laid down embryologically, whether they're carried by the lymphatic system or...
Dr. Lara Briden:
Actually, staying on the topic of the microbiome and endometriosis, there's a microbiologist in Sydney, I've forgotten her name now, but she might be a good guest to have on your show as a part two of this. But they've just done a study of microbiome and endometriosis. She said to me that some aspects of endometriosis as a disease, it behaves like a microbial disease. The distribution of the lesions looks potentially like microbes have been involved with that, which is pretty fascinating.
Dr. Lara Briden:
In this research about the microbial hypothesis, it was not subtle. The levels of LPS toxin in the pelvic cavity of women with endometriosis was six times higher than women without, and it was showing up in the menstrual fluid as well.
Dr. Nirala Jacobi:
Wow. That's significant, isn't it? Yeah.
Dr. Lara Briden:
Yep, yep.
Dr. Nirala Jacobi:
I have to say that retrospectively, when I think back of my endometriosis patients, I can't think of a single one really that didn't have IBS type symptoms. So that definitely fits with that theory also.
Dr. Lara Briden:
Well, Nirala, we know that. For example, there's been a New Zealand clinical trial a few years ago where they've trialed a low FODMAP diet again for that patient group who have both IBS and endometriosis, which is a huge group, and they found that it improved those symptoms, but not just of the IBS but of the endometriosis as well.
Dr. Lara Briden:
So already you're getting another angle. Yes, as soon as you start to improve things in the gut, that can help to relieve the endometriosis symptoms as well and also vice versa. Yes. You know, preventing adhesions is potentially going to help the gut. But I would say that that direction of gut to endo is the bigger one that we should be paying attention to as clinicians because there's so many things we can do for the gut directly.
Dr. Nirala Jacobi:
One of the other aspects of that, and this maybe goes back 20 years when we first started to look at the estrogen metabolites and the theory of estrogen dominance, maybe not theory, but the issue of estrogen dominance when it came to most hormonal issues, but as it pertained to women. Is that still a theory or is that still something you work with with just clearing estrogen or improving estrogen metabolism?
Dr. Lara Briden:
Let's talk about that. It has a name now. It's called the estrobolome.
Dr. Nirala Jacobi:
Estrobolome. Yes.
Dr. Lara Briden:
Yeah. That's the part of the microbiome, the bacteria or more about the enzymes of the bacteria. I've heard a lot of things about the microbiome. We need to just speak more in terms of their enzyme content than their species because that's what really matters at the end of the day. So those bacteria who are metabolizing estrogen or who are conversely not metabolizing it, because they're making a lot of beta glucuronidase, the enzyme that recirculates estrogen, without a doubt that a problem with the gut and the microbiome can raise estrogen levels and that can contribute to estrogen excess.
Dr. Lara Briden:
I actually just for what it's worth, I do not use the term estrogen dominance, and I know a lot of clinicians do and I'm not anti. I'm not totally anti. It's just that I feel it's not as precise as speaking about it in other ways. So estrogen excess is a helpful term. I think progesterone deficiency is a helpful term, and that's a whole other... and ovulatory cycles. That's a whole other kind of conversation.
Dr. Lara Briden:
And then just to be clear with endometriosis, it is not caused by estrogen dominance. It is not. I would say most of my patients with endometriosis have normal hormones. Two things can be true at the same time. Right? The disease process, the inflammatory disease process of endometriosis is very much flared up by estrogen. But that doesn't mean that estrogen is the cause of that. In fact, when the disease is present, even a normal amount of estrogen worsens the disease.
Dr. Lara Briden:
So yes, from a conventional medicine point of view, one of their strategies is to shut off estrogen, but that is a problem because we need estrogen. That's not a solution to an inflammatory disease. My solution of course as an ND looking upstream, trying to get to the root cause is if the problem is chronic inflammation and pretty significant immune dysfunction, almost autoimmune type immune dysfunction and some of the drivers of that, namely lipopolysaccharides and intestinal permeability, then you want to treat those things. Right? You want to stabilize the immune system and then a woman can have her own ups and downs of estrogen and not suffer aggravations from that.
Dr. Nirala Jacobi:
This maybe ties back to this issue around endometriosis that the extent of lesions doesn't really predict the amount of symptoms. Right? So you could have somebody who is... They go in with a laparoscopy and they have a massive amount of intra peritoneal or lesions and that doesn't actually predict the level of symptomatology. And then you can have somebody who barely has anything and they are in tremendous pain and have a lot of issues. So, that I always found really fascinating. How do you explain that?
Dr. Lara Briden:
Yeah. A lot of it is to do with the level of inflammation and the involvement of the nervous system. Here's something quite interesting that a lot of people don't know. Just to back up a little bit, endometriosis lesions are endometrial tissue or tissue that is like the endometrium or the uterine lining that is located in places that is not inside the uterus. So in the wrong locations.
Dr. Lara Briden:
But there are some big differences. Endometriosis lesions are only like endometrial lining. They're different in some ways. One big difference is the endometrial lining does not have a nerve supply, this is my understanding, whereas endometriosis lesions can be heavily innervated. Those pain type nerves and P factor and all the different kinds of pain signaling, they get set up with those lesions is obviously going to directly correlate with the pain experienced. And just to differentiate again, that's different from normal endometrial tissue, which does not have pain receptors or innervation.
Dr. Nirala Jacobi:
That makes a lot of sense.
Dr. Lara Briden:
Again, there is similarities with autoimmune disease in the way those endometriosis lesions become invasive, grow their own nerve supply. There's different growth factors happening that stimulating them in ways that is not normal for tissue.
Dr. Nirala Jacobi:
Before we go into what kinds of treatments you would do and how you really approach it, you mentioned something about birth control pills and the whole book, I guess the premise of your book is to get people also away from birth control pill. Can you talk a bit more about that?
Dr. Lara Briden:
Yeah. With regard to endo- Well, okay.
Dr. Nirala Jacobi:
Yeah. Well, I mean I guess in general also.
Dr. Lara Briden:
Yes.
Dr. Nirala Jacobi:
I mean I have my own issues when it comes to... I mean my thought about birth control pill is different maybe from yours from a gut perspective because of the things it does in the gut and how it can promote yeast overgrowth and things like that. That may be different from your approach.
Dr. Lara Briden:
Okay. My basic premise is this. That it is an outdated technology. The contraceptive drugs were invented before there was any real understanding of the menstrual cycle and so we're using these very heavy hitting drugs for a situation that requires a lot more subtleties. And the language around it has been very strange.
Dr. Lara Briden:
So just to give the most basic example, women are told, still told today that the pill can regulate their hormones or regulate their menstrual cycle when in actual fact, what the contraceptive drugs do is shut down completely the menstrual cycle and induce what is really best described as a temporary chemical menopause with the kind of give back of replacement of these contraceptive drugs, which are not even as good as the hormones that are given to women in menopause now.
Dr. Lara Briden:
So they're substandard. They're not hormones. They're called hormones, but they're not. For example, the main progestin that's used is a drug called levonorgestrel, which is only slightly similar to progesterone. It's actually more similar to testosterone than it is to progesterone, which is why levonorgestrel, that drug, that progestin drug causes hair loss, whereas progesterone is quite beneficial for hair.
Dr. Lara Briden:
Here's another example. Progestins potentially do bad things to the immune system, I would say potentially, whereas progesterone is a beneficial immune modulator. That's one of its main benefits actually. So we've been in this situation. It's only 60 years old, 60 years ago when we started putting women on the pill. Back then, it was only take the pill between babies, take it for a few years. That probably wasn't too bad. But now we've progressed to this time where it's like as soon as you start having periods, shut it all down with these drugs and take these contraceptive drugs instead of your hormones for decades.
Dr. Lara Briden:
Obviously, to me, it's very much an emperor's new clothes situation of what have we been doing. This is coming at it from the perspective where I actually feel like women's own hormones are quite beneficial and quite important for health. Not just that I feel that, there's evidence that we benefit from our own hormones from having what are called ovulatory cycles or natural menstrual cycles. So I don't accept that we should as a population be shutting that all down.
Dr. Lara Briden:
Obviously, that's a big topic. My book then has to... If I make that argument, then I have to provide alternatives for avoiding pregnancy, for treating all these various hormonal issues, and I'll grant you that the treatment... Coming off the pill and trying to find something different for endometriosis is probably one of the most challenging ones. So for PCOS, for regular periods, for skin, the solutions are fairly straightforward.
Dr. Lara Briden:
For endometriosis, it's a bit different in that the stakes are higher in that it can be a very debilitating, not always, but it can be quite a debilitating disease. And with my own patients, if they have had symptom relief from the pill, then I don't want them coming off straightaway. We would work towards maybe coming off, but I don't want to just throw that away if they've actually had some relief from it.
Dr. Lara Briden:
But just to put it in perspective, the hormonal birth control is not a guaranteed symptom relief for endometriosis. It's not a cure for one thing. Absolutely 100% not. How could it be when it's a disease of immune dysfunction and really contraceptive drugs just work by shutting down hormones?
Dr. Lara Briden:
I think in 2018 or maybe 2016, we can put this in the show notes, there was a Cochrane review, who as you know are the big evidence based medicine people, of the pill for endometriosis and their results were inconclusive. Basically, the line was something like there is no clear evidence that the pill relieves endometriosis.
Dr. Lara Briden:
Now, I know anecdotally that it does sometimes, so I fully acknowledge that. But as I said, I think I said earlier, it's the wrong tool for the job. We're treating an immune disease, inflammatory disease by shutting down hormones, which in the big picture is not a solution.
Dr. Nirala Jacobi:
I mean getting back to the complexity of endometriosis, I would say it's one of the more difficult multifactorial almost. You've got to look at lots of different things or different issues to be really successful and put somebody in longterm remission, I find. Do you find also that there might be like an autoimmune component? I know that that was one of the causes, that was one of the differentials when I was doing women's health and all that. Do you see a lot of that?
Dr. Lara Briden:
Okay. You've opened a can of worms. It clearly to me is in the territory of autoimmune disease. Apparently, that is quite a controversial thing to say unfortunately. I think everything with endometriosis is just gets wrapped, everything just gets dialed up. Because it can be quite a serious disease, the debate about the etiology of it can get quite emotional, quite heated. The establishment at least a few years ago did not want to hear about an autoimmune etiology.
Dr. Lara Briden:
I guess for me as a clinician and as a communicator and a writer, I'm not attached to the word autoimmune because autoimmune can mean lots of different things. I mean it is without a doubt, I would say first and foremost a disease of immune dysfunction. And most women with endometriosis have the autoimmune haplotype, the kind of celiac, that HLA haplotypes.
Dr. Lara Briden:
So this is the way I see it. You have to have a certain kind of immune system to ever develop this disease. Most women, no matter how estrogen dominant they are, whatever they do, they're not going to get endometriosis. That's why there's such a strong genetic component. So you have to have that kind of immune system that will do that. Then you have to have probably epigenetic changes on top of that probably from dioxins and there's a little bit of evidence, you know basically some things that have been worsening that situation.
Dr. Lara Briden:
Then you have to have the lesions present, which could I think occur for different reasons. Then you have to have initiators of the inflammatory process. So whether that's LPS or maybe a nickel allergy in the gut or other... Leah Hechtman, who you may know, another Sydney naturopath talks about other microbial initiators.
Dr. Lara Briden:
And by initiators, I don't mean they're the ultimate cause. I mean there's this immune system that's kind of primed that with the right things in place could go off the rails basically and start creating this active inflammatory situation, and for different women that's going to potentially be different microbes being present and combined with an immune system that doesn't have what it needs. So potentially missing some of the key nutrients that our immune system needs to keep on the rails.
Dr. Lara Briden:
Plus in many cases, I would say that's where the autoimmune diet... Basically gluten and casein, those two big, what I think of as drivers of autoimmunity, once it's established for endometriosis. Treatment usually requires completely eliminating those foods and not just reducing them like you would for FODMAPs or something like that, but getting them out because they are the kinds of foods that for that haplotype or that immune system, any amount of that is upsetting.
Dr. Lara Briden:
So yeah, you can see it's a can of worms. Yes. I guess you can see I'm firmly in the camp where I do think many parts of this looks quite similar to autoimmune disease. There's certainly been review papers about that trying to decide if it is or if it isn't. I mean it's very similar to autoimmune disease. Put it that way.
Dr. Nirala Jacobi:
Okay. So if we're saying or if the main theory right now as one of the drivers is the translocation of LPS potentially, are there other microbial influences besides that that are affecting the immune system? So when we're saying immune dysfunction, what other parts besides LPS causing inflammation, what other immune dysfunction are we seeing and are they microbially related?
Dr. Lara Briden:
Oh, yeah. Well, I mean the big answer would be yes. I don't think anyone knows all the different ways potentially that might be playing out. Certainly just intestinal permeability generally, inflammation or inflammatory cytokines originating in the gut. You have different signals coming from the gut microbes. I suspect it all needs to still be discovered and some of your listeners might have more information about this. They can certainly hopefully chime in in the comments. But yes, I think there's a lot to be done in the gut, a lot. I start in the gut when I'm treating this disease.
Dr. Nirala Jacobi:
We always start with the gut no matter what we do as good naturopaths I think.
Dr. Lara Briden:
Yeah.
Dr. Nirala Jacobi:
I've said this many times to other guests. It's so vindicating, isn't it, to find out that all these years that we've always started with the gut and we didn't really know why, but it worked. Now, we're getting the validation through science that that approach has worked not just for endometriosis, but for lots of different issues, mood disorders and inflammatory conditions and things like that, rheumatic diseases and et cetera, the list goes on, that we as naturopaths have always treated by approaching it through the gut. And now we know why. There's so much that's coming to light with even just in the field of microbiome imbalances that are so important to systemic health, I think. I've always felt very vindicated by that.
Dr. Lara Briden:
Yeah. That's the word. I heard Alessio... What's the gluten [inaudible 00:32:45]?
Dr. Nirala Jacobi:
Fasano?
Dr. Lara Briden:
Fasano. Yeah. This is quite years ago now, giving a lecture to a group of naturopaths. Mostly we were naturopaths I guess. He was just saying, "Yeah, it's interesting how you somehow intuited 30 years ago this concept of leaky gut and now we see that's real." So yes, I mean I think that that does feel... It felt so good to think we've been on the right track with at least some things. I suspect we haven't been doing everything perfectly.
Dr. Nirala Jacobi:
No. I think that there are still so many mysteries. To me, I'm still sort of gobsmacked that we could have translocation of not just bacterial endotoxins but actual bacteria into the pelvic cavity. I still am gobsmacked by that because just the same as what we find out now is that the fetus actually has its own microbiome. We just are starting to learn that things are not sterile in the human body, that we have so much contribution by organisms that we are just starting to understand that in ways that we never could.
Dr. Nirala Jacobi:
But getting back to the microbiome and IBS and its driver of endometriosis. So other particular bacterial patterns perhaps that we could already start to identify on let's say a CDSA, like a preponderance of bacteroidetes for example, or you know, I'm just guessing. Or even as hydrogen sulfide producers or... What do we know so far?
Dr. Lara Briden:
I would love to know that myself. I have to be honest with you. I don't do a lot of gut testing to tell me that from my own patients. I suspect there are some patterns there. For what it's worth, I've often just in terms of bigger patterns, I often do see a low stomach acid, which I know obviously can correlate with SIBO and some of the classic bloating patterns of SIBO. I think I said to you at beginning, I don't do a lot of SIBO testing, which I'm kind of obviously now wishing I had been, so I could chime in with some of that.
Dr. Nirala Jacobi:
That's okay. You're a different type of expert, so we appreciate that.
Speaker 1:
Thank you for listening to the SIBO Doctor Podcast. We hope you found the information in this episode useful in the treatment of your SIBO patients. Thanks to our sponsors, sibotest.com, a breath testing service with easy online ordering, and QuinTron, maker of outstanding breath testing equipment. Tune in again for another episode of the SIBO Doctor Podcast. Thanks again for listening.