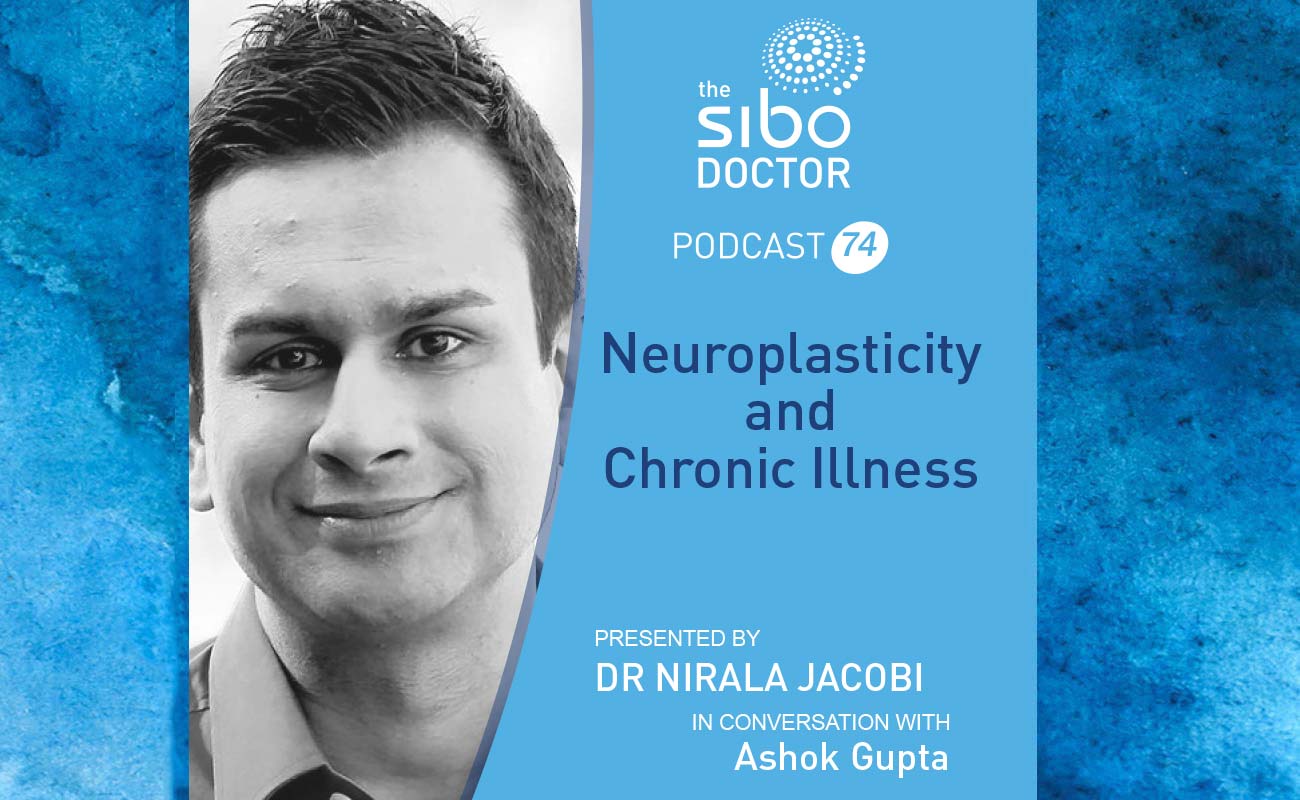 Neuroplasticity and Chronic Illness
With me today is Ashok Gupta, the Founder of the Gupta Program, which I'd heard about from colleagues at SIBO conferences and from my patients through the years and how effective it is in overcoming chronic illness through the use of neuroplasticity or brain retraining.
Resources:
Transcript
Announcer:
Welcome to The SIBO Doctor Podcast, hosted by Dr. Nirala Jacobi. Medical experts join us to discuss functional digestive disorders, clinical practice, and research as it relates to SIBO and associated conditions. This podcast is intended for SIBO-treating practitioners and aims to help educate how we may best serve our SIBO patients. Head over to thesibodoctor.com and sign up to the SIBO Mastery Program and take your SIBO knowledge to expert level. If you're a patient, you can sign up to the SIBO Success Plan and beat SIBO for good. Please note, this podcast series is not intended to diagnose or treat medical conditions. Ask your doctor before initiating any new treatments. And now over to Dr. Jacobi, and the latest episode of The SIBO Doctor Podcast.
Nirala Jacobi:
Welcome to another episode of The SIBO Doctor Podcast. With me today is Ashok Gupta, the Founder of the Gupta Program, which I'd heard about from colleagues at SIBO conferences and from my patients through the years and how effective it is in managing their chronic illness and really overcoming their chronic illness through the use of neuroplasticity or brain retraining. And I've talked about these kinds of programs before on this show in relation to MCAS and other really severely limiting and incapacitating illnesses.
Nirala Jacobi:
Ashok as an internationally-renowned speaker, filmmaker, and health practitioner, who's dedicated his life to supporting people through chronic illness in achieving their potential. He suffered from chronic fatigue syndrome around 25 years ago when he was studying at Cambridge University, and through neurological research that he conducted, he managed to get himself 100% better. He then set up a clinic to treat others and then published the well-known recovery program known as the Gupta Program in 2007.
Nirala Jacobi:
All of the links to the websites and the programs are going to be at the end of the show notes to this podcast which you can find on thesibodoctor.com and click on the podcast tab, and then click on this interview, you will find the show notes and all the links you need. So without further ado, let's get started. Welcome to the SIBO Doctor Podcast, Ashok, so great to have you on the show.
Ashok Gupta:
It's lovely to be here. Thank you for inviting me.
Nirala Jacobi:
I've been waiting for this for some time. I've been reading about your program and I've had a lot of patients go through it and mention it to me. And as somebody who treats a lot of chronic illness it's just wonderful to have another tool that I find more and more essential especially as people are getting more ill with a mast cell activation syndrome and really chronic illness that we see in the context of digestive disorders that we talk about here on the program.
Nirala Jacobi:
But before we get into the nitty-gritty of what you teach, you created this program, this is really targeted for chronic illness that's based on neuroplasticity and many practitioners understand that concept but we do have a lot of patients listening in and I just thought, let's start by defining what that is and what you mean by brain retraining.
Ashok Gupta:
Oh, yes, absolutely. The idea of neuroplasticity is that until the '70s and '80s, we used to believe that the brain was fixed. So pretty much your brain had a certain structure when you were born. The first five or 10 years of life it was rewired and then once you're an adult it's pretty much fixed in your habits, your ways of responding effects. And then the '90s and the noughties they realized, hang on, actually the brain is very flexible, it's constantly rewiring itself.
Ashok Gupta:
So although we say, well, someone's always stuck in their ways, actually we are constantly changing our reactions to our environment, to people, which means that then when it comes to changing habits the brain can shift and can change. So that's traditionally been applied to, I suppose, psychological responses, all of the area of field of psychology. But we've applied these techniques to physical illness and chronic illness and that's where the word neuroplasticity comes important. So plasticity means it's plastic, it's malleable, it's changeable, and neuro obviously refers to the neurons.
Nirala Jacobi:
Great. And so looking back on the beginnings of this program in 2007 I think you said that you've created the first neuroplasticity program. It's been around for quite some time, you revamped it in 2019. What started all this for you? How did you get into this?
Ashok Gupta:
Yes, well, many of us have started along this road because we ourselves suffered from something in some shape or form and we were inspired. So twenty-five years ago I was studying at Cambridge University and I developed ME and chronic fatigue syndrome as a result of a stomach bug. I'd gone to India, picked up some kind of stomach bug, I've been burning the candle at both ends at university so I already had a weakened system, I guess in general.
Ashok Gupta:
And I came back, went back to university and just got worse and worse and worse for no reason until, yeah, the exhaustion, the post-exertional malaise, the stomach problems, everything hit really badly. And I went from doctor to doctor, they're telling me, "There's nothing you can do. You have this mysterious illness. We've done all the tests, nothing really shows anything particularly unusual."
Ashok Gupta:
And that bird on my quest to say I want to understand what these conditions are. And I said to the universe, "If I figure out how to heal myself I'm going to spend the rest of my life helping as many people as possible." And so I researched brain neurology and physiology and the mechanics of ME and chronic fatigue syndrome. It was like devouring every book and every resource I could and reading medical articles online.
Ashok Gupta:
And eventually I came up with a hypothesis which I published online in 1999. And I published it also in the medical journal called Medical Hypotheses in 2002. And as a result of that particular way of looking at things in the late '90s I then ad hoc retrained my brain. I came up with different processes and different ways that I could retrain my brain. I got myself 100% better and then I set up a clinic to treat others with these types of chronic conditions.
Ashok Gupta:
So, yeah, so that's my background and my journey and it's been a fascinating one both from a personal experience of what I went through. And then also the patient journeys as you probably attest to, that each patient has got their own situation, their own experience, but the crossovers of then what happens in the brain and the body are very striking in terms of the responses in the body and just understanding how all of that links together, I just find so interesting.
Nirala Jacobi:
It absolutely is, it's fascinating. And as I mentioned before, as the more I treat chronic illness the more I see the connection to the brain and fear patterns. And we've had many guests on this show talking about stress and the amygdala and trauma and different situations that really seem to accompany and then entrench chronic illness. And what kind of chronic illness are you finding your program... What are some of the best responders to this program? Do you have any conditions that are specifically well responding to your program?
Ashok Gupta:
I think this comes down to which ones we tend to treat the most off. So definitely ME and chronic fatigue syndrome, fibromyalgia, mold illness and chemical sensitivities, and then certainly gut and digestive issues. So we treat food sensitivities, obviously SIBO, which we'll talk about and other conditions related to the gut respond quite well, a whole range of different chronic conditions. And then the secondary effects such as pots, or adrenal fatigue, all of these different I suppose sub-labels that we give to these types of conditions the program works very well for.
Nirala Jacobi:
Great. So-
Ashok Gupta:
And we call these conditions neuroimmune conditions syndromes, NICS. So neuro because they're obviously involved in the nervous system, immune because we know the immune system has been impacted. They're conditions because we believe these are learned software programs in the brain. So rather than there being something wrong with the hardware per se, or the imbalances of hormones and neurotransmitters, it's actually an imbalance or a problem with the software that's controlling the whole system, and a syndrome because each of these conditions is unique according to what we believe are the genetic and physiological vulnerabilities of each patient.
Ashok Gupta:
So somebody would stress, it will go straight to their stomach and they'll get the gut issues. Somebody else it might go straight to their head and they get migraines. Somebody else it might result in chronic fatigue. So each of these conditions is different according to the set of syndromes or these symptoms they experience, but we believe the underlying cause is very similar.
Nirala Jacobi:
Can you talk about that? Can you talk about the amygdala and the insula? Those are the two structures in the brain that you... That's as far as I've got so far in your program, actually, in preparation of reviewing this. But I really understand this concept of this continuous loop that the brain continuously thinks it's in danger and therefore we manifest physical symptoms, but I'll let you explain that a little bit more eloquently.
Ashok Gupta:
Sure. And so I love to start explaining my hypothesis with the biggest question of all, why are we here? So why are we here and we could spend the next few hours discussing philosophy and religion and whatever. But let me actually start with a scientific perspective of that which is, we are here as human beings because over millions of years this nervous system and this immune system has evolved through different animals to get to where we are right now. We are adaptive beings so we adapt to our environments to survive. And so that we survive we then pass on our genes to the next generation. So if we go into the pure scientific way of looking at it, that's why we're here, we're here because we're able to pass on our genes to the next generation.
Ashok Gupta:
Now, therefore we are survival machines. That is the primary purpose and goal of this brain and this body. The body cares more about survival than it does your health and wellbeing. That's the interesting thing to premise all of this with, the survival is the number one priority. Now, let's take an example of gut and stomach issues that we see at our clinic and I'd love to understand your experiences as well.
Ashok Gupta:
We generally find that when someone has triggered this kind of illness from a gut issue there tend to be two triggering factors. Number one, some kind of acute or chronic stress. And that stress could have been an emotional stress, it could have been physical stress, it could have been overworking or just some immunosuppressive experience that they went through, combined with the physical trigger. Now the physical trigger could be, like I had a stomach infection. It could be a virus or a bacteria infection or something which triggered an imbalance in the guts temporarily which then became chronic.
Ashok Gupta:
And a combination of those two things, normally our bodies fight off that infection or that trigger and the body goes back to balance. But in this scenario what happens is because the body is vulnerable, because we all know from psychoneuroimmunology, when we're stressed, when we're anxious, when we've overdone it, the immune system is suppressed. So therefore we believe it takes much longer for the body to fight off that particular infection. And many people who start these types of gut digestive tract issues report having some kind of trigger that started off and may have lasted quite long. And it could have been food poisoning, so food poisoning we often find is another potential trigger.
Ashok Gupta:
And so the brain thinks, "Oh, dear, it's taking me ages to fight off this bacteria or this virus or whatever. Let me go into overdrive mode." Just like happens in COVID-19 where we get a cytokine storm, in the same way the brain is intelligent and it wants to ensure survival.
Ashok Gupta:
So then it overstimulates the nervous system and immune system to fight off this infection. In that process it becomes what we call traumatized, not in the psychological sense but more in the conditioning sense. So that even once the original trigger has gone, the body is still responding as if that stomach bug or that food poisoning source is still present in the gut. And then what happens? The symptoms in the gut, the symptoms in the body loop into the brain, the brain is hypersensitive because it's in that hyperactive mode of, I must protect, I must protect, we are in danger.
Ashok Gupta:
It then magnifies those signals. It's conditioned to overreact so then it overstimulates the nervous system and the immune systems, that's our sympathetic nervous system and definitely the immune system or the Th2 dominance, which then creates inflammation throughout the body and also we know in the brain. Causes directly a lot of the gut imbalances and challenges that people face. But that's just one element of the symptomatology, there's also many other elements in the body in general. And those symptoms then loop back to the brain. The brain says we're in danger and we get caught in a vicious cycle.
Ashok Gupta:
The reason that a lot of these functional challenges turn into chronic illnesses is because the input and the output of the system get linked. And anyone who knows about mathematics, physics, we know that perpetual cycles involve inputs and of systems linking together. Once that happens the body says, "I'm in survival mode. I must protect against that bug, it's still here." Even though the bug has gone, it's an actual conditioned response. When we say conditioned response, the brain, the guts, those survival instincts have learnt that negative symptoms in the viscera imply that we are still ill therefore we must over defend and that continues the perpetuation of the illness and the condition.
Ashok Gupta:
And no doubt, when we introduce certain therapies, they might be enzyme therapies, supplements, et cetera, et cetera. There are things that can be done to support the healing of the guts and I'm sure that's a lot of work that people do who are listening and that's all brilliant and it should be done. And at the same time, going to the underlying root cause which we believe is in the amygdala, the insula, those two brain structures that you mentioned, can also support healing and we find accelerate healing. And certain practitioners are even finding they want people to do the brain retraining first to really get the balance... Stop the imbalances in some ways before they're ready for some more of nutritional treatments.
Ashok Gupta:
And yeah, so that's in a nutshell. And those two structures you mentioned the amygdala, so we've got two amygdala that sit behind the eyes and their role is, or one of their roles is to defend against dangers and we've normally associated it with psychological dangerous, but in fact the brain doesn't make those differentiations. Is it a physical threat, a psychological threat, a biological threat or some kind of other threat? Whatever it is the amygdala is involved in making sure that we survive.
Ashok Gupta:
And the insula is a little structure that sits between the limbic system and the cortex, so it's not strictly part of the limbic system, although the amygdala is, and its job is to take in incoming signal from the viscera, from the body, check what is the status of the body, and then create the appropriate autonomic and immunological responses to ensure homeostasis and survival. The master sentinel is making sure that we're keeping well.
Ashok Gupta:
And in both of these brain structures we know there's abnormalities, there's either shrinkage or expansion or overactivity. And we also know that from animal studies, and this is really fascinating. They take rats and they say, "Right, let's give these rats sweet water plus an immunosuppressant." And obviously when the rats take that their immune system is lowered. Then they repeat that experiment four or five times. Each time immune system is suppressed. Then they give the rat just the sweet water without the immunosuppressants. And guess what happens? The rats' immune system magically goes down even though there's no immunosuppressant, it's pure placebo in that sense.
Ashok Gupta:
And what they find is that rat's immune system has got conditioned and it's learned to respond in a certain way. And when they dissect the brain they find, lo and behold, the conditioning occurs in the amygdala and in the insula. Which is fascinating because we always had this as a hypothesis and now it's being actually proven in animal studies which is just incredible. So we believe the core conditioning for the nervous system occurs in the amygdala, the core conditioning for the immune system is probably in the insula, but these are all obviously hypothetical.
Nirala Jacobi:
What you're saying is that when somebody is ill acutely they may create, for example in the case of SIBO, in some cases they do have post-infectious gastroenteritis and creation of antibodies that then causes them to chronically relapse for SIBO. But what you're saying is that you can actually, and also in other cases, you can be acutely ill and heal from that situation but when you connect it to a chronic stressor or whatever the brain perceives as dangerous, you can create this loop situation where people might actually become more ill than they would normally if they didn't connect it to a stressor. Is that a correct way of rephrasing that?
Ashok Gupta:
Yes. The analogy I use is that there's someone standing on a bridge and below they can see loads of people coming in the river who are drowning, so they keep jumping in getting the person out and saving them. And there's another person that comes along, he's drowning so they jump in and rescue them. And they keep doing this but nobody's asking, "Where are all these drowned people coming from? Who's throwing them in the river?"
Ashok Gupta:
And so in the same way absolutely we can keep saving the guts, we can keep trying to do that. But the real question is why has the guts gone into this altered state? Why is it continually chronically acting this way? And we also know from our experience with practitioners that someone may heal at one point in time but then a year later, two years later, some stresses come back and often that person may come back with the same issues going on again.
Ashok Gupta:
What it means is that somehow the stress system has learned to over-trigger itself, cause these imbalances in the body, and then get back into these vicious cycles where once... Because generally our systems are supposed to go into the on position, repair or fight off a virus or do whatever it needs to do, and then go back to the off position. But in these conditions we're saying it goes into the on position and the switch gets stuck and it doesn't seem to go back into the off position, which is the reason for these chronic illnesses and chronic conditions. And there are massive communication as we know between the brain and the little brain or or the guts, the gut nervous system, they're constantly in communication. So that reinforces this idea of vicious loop going on between the brain and the guts.
Nirala Jacobi:
It's so fascinating and personally I talk to my patients a lot about stress and the effects of stress on the nervous system and the gut. And that's more of a conscious awareness of the effects of stress. But what you're talking about, this conditioned response, I just want to mention this to people is, you're not really even aware of it. It's an unconscious or subconscious response to a perceived dangerous threat that actually doesn't exist anymore but you've conditioned your nervous system to respond. Is that right?
Ashok Gupta:
Yes. And it's so important that everyone understands that these are not psychological issues.
Nirala Jacobi:
Yes, exactly. And I usually give... For example, I was thinking about this in preparation for this interview. And like I said I've done a lot of other podcasts guests because I also share this excitement or this... Yeah, this excitement about having another tool that really helps and I've recommended brain retraining to many of my patients and I can say unequivocally for chronic illness it is one of the best ways to accelerate healing so I really do endorse doorsteps approach. But from a personal note, last year, about a year ago, little more than a year ago we had just terrible, terrible Bush fires here in Australia. And we were all white-knuckled. I live in a rural area. We were starting to evacuate, we could see the smoke coming over the hills.
Nirala Jacobi:
And I can say that, I mean, that was one of the most stressful times I've experienced in recent history. And that was this year followed by a lot of rain and we're completely saturated here in the Northern rivers. Everything is super green, ground is boggy, but every time I smell fire, my body goes back into that response of... Even though my brain knows it's not in any acute danger but it just pulls up that incredibly traumatic time for everybody that lived through that. So just to share a little personal anecdote and an example of how your brain can train itself into a response that isn't actually logical.
Ashok Gupta:
Exactly. What we differentiate is the unconscious brain and the conscious rational mind. We think we're in control and we're doing things deliberately but actually this little friend, our unconscious mind, which is generally the limbic system part of the brain is really in control. It's deciding a lot of things unconsciously and persuading us consciously that this is the right thing to do, so there's kind of unconscious drivers.
Ashok Gupta:
And the unconscious is like an efficient machine. So it learns if something's been dangerous in the past it'll probably be dangerous in the future so let me create a conditioned response, which means a learned response to save time so if that thing comes along in the future we know how to respond. That's a very efficient mechanism. The challenge we have is that sometimes the brain makes mistakes because the brain prioritizes survival, as we said. So it makes mistakes and thinks, "Oh, but that could be dangerous. That could be dangerous. That could be dangerous to my health, I must then keep over responding."
Ashok Gupta:
And the background to this is we now live in a pro-inflammatory society in the sense that, let's say for millions of years or thousands of years of our evolution as human beings, we lived in small fishing villages, open air. We were outdoors a lot, we have less inflammation going on in the body, I believe. The last 200 years put people in small boxes, don't expose them to light for too long, make them sit in front of screens for 10 hours a day. Yep, the sedentary lifestyle.
Ashok Gupta:
Suddenly, and then on top of that, all the toxins and food and all the pollution and the other types of stresses we experience, that means that our nervous system and immune system are always slightly triggered in the background. The immune system is slightly triggered once again with that Th2 response. And that then means we're more prone to learning these new condition responses because the immune system's always slightly on high alert to the next danger that may occur because of this pro-inflammatory society we live in.
Nirala Jacobi:
That's very true. Very, very true. All right. I have a couple more questions before we go into the program itself. Well, actually, let's start with that first. Let's start talking about what your program actually is and all of the links are going to be in the show notes, so listeners you can find them in the show notes, but it's all on guptaprogram.com I believe, right? Is that right? Okay, I should have let you say that. But all right, talk to us about this program that you've created and what it really entails.
Ashok Gupta:
Yeah. Based on this hypothesis we've spent the last 20 years refining, refining, refining the techniques until we found something that works for most people most of the time. And the way this works is that we've created a program to help patients recognize at the very periphery of consciousness these danger signals. So once again, this isn't psychological, normally we're not even aware of these processes going on unconsciously. But we figured out that there are some safety valves in the brain to give us a little conscious awareness of what's going on.
Ashok Gupta:
We help a patient to recognize that and to retrain that signaling so that it's informing the brain that we aren't in danger and in brain neurology with a study in animal studies they found it involves projections from our prefrontal cortex down the limbic system, down to the amygdala, in the insula,, and the anterior cingulate informing us that inhibition systems need to be triggered.
Ashok Gupta:
Now, what do we mean by inhibition systems? When I said the on switch is triggered normally there's a counter balancing effect which is the inhibition system, which puts it back to the off position. Those inhibition systems are no longer working so therefore we train a patient to be able to literally recreate that inhibition system and switch off these overresponses. And so that's a core part of the program.
Ashok Gupta:
And then the way that we've done this is it's an online video course, 15 interactive video sessions, about 30 audio exercises, and it's all in a package online. And so when patients visit, first of all they've got those resources to hand so they can use it on their mobile, they can use it on their screens, but on top of that we have a support group. We have 3000, 4,000 people in a support group where they working together for their healing and there's weekly webinars as well with myself. So we hold a patient's hand through the brain retraining process.
Ashok Gupta:
And there are three core aspects to it. The first one is retraining the brain, that's the core of it. We use specialized seven step processes and short processes that enable someone to get back to health. And that's supported by the second R of the Gupta Program. The first R is retraining, the second R is relaxing the nervous system. Neuroplasticity research shows that when the nervous system is a little calmer it can be easier to rewire and retrain. And a lot of our patients are quite wired, I'm sure we find that January tend to be slightly more anxious on the average person. They tend to be a little more worried, a little more aroused, stimulated.
Ashok Gupta:
And we have deep and powerful relaxation techniques, specifically designed for people with anxiety, or anxious minds, or busy minds. Or the kind of person that says, "Oh, I can't meditate." Supported with breathing techniques, relaxation techniques, the whole host of different things and the holistic lifestyle aspect of eating an anti-inflammatory diet and sleep and getting our sleep well, all of these kinds of lifestyle changes is the second R, and pacing of course.
Ashok Gupta:
The third R is reengaging with joy and this is something which is under, I suppose, undervalued or under emphasized in mainstream medicine. Where it's actually about how do we ensure that a person is enjoying the small things in life rather than saying, "Right, I'm ill so I can't get better until... I'm not allowed to be happy and enjoy things until I'm better." Because actually there's a huge amount of research that laughter and smiling and singing and having fun and doing things we enjoy has an incredibly healing effect on the body directly.
Ashok Gupta:
And some studies have shown for instance in depression that those things can be much more powerful than antidepressants. People can heal from a whole range of different conditions when they reconnect to their joy so that's something else that we work on. But the core of it is this retraining of the brain and that tends to be the thing that gets people better. Yeah, that's how the Gupta Program works.
Nirala Jacobi:
Fantastic. Yeah, the reconnecting to joy. And not often I ask my patients especially the ones that are... And mostly the patients that I see that are chronically ill, they've been ill for a long time because I specialize in these chronic gut issues. And a lot of them don't know what it would look like when they're well. So there is this almost this fog of illness that prevents them from even visualizing what they would do if they are actually well enough to do the things they want to do, so that's really interesting.
Nirala Jacobi:
Now, we know that a lot of people are deeply traumatized from childhood or have had issues [crosstalk 00:30:46]. Or things happen to them and they're really traumatized. Do you feel that it would be appropriate for them to see somebody prior to taking your program, in other words, talking to a trauma counselor or a trauma specialist? We talked about SE or the somatic experiencing here on the show and other types of therapies that really target trauma because I do feel that that is a major issue for many, many people that that's still and maybe has primed their nervous system even further before they got ill. And this kind of activation that you talk about, do you feel like it's important to have that be a separate approach or do you include that in your program?
Ashok Gupta:
It's a really good question, a really interesting question. Actually what we say is these things can happen in parallel if people choose for it to happen, but you don't need to resolve all your traumas before you can heal from chronic illness. Because there was a time in your life or in someone's life where they would have had that background, that childhood background, but they didn't have chronic illness. The chronic illness was a layer on top of that background trauma. So many of our patients choose to heal first from the condition. And once they're stronger, physically, mentally, emotionally, then they'll work on their trauma sequentially.
Ashok Gupta:
Now, you're right. There's probably a very small minority of patients where the trauma is so powerful or it's beginning to manifest in the body as a hyper-aroused nervous system that sometimes they'll work on that in parallel as they do the Gupta Program and also to magnify the benefits. But absolutely someone doesn't need to have resolved all of that before they start our program. And most of the coaches that we have that we've trained are trauma-informed in the sense they're aware of trauma, they're able to support the healing from trauma within the package of doing the Gupta Program.
Nirala Jacobi:
Great. And it sounds like pretty much any illness that's been going on for some time can benefit from your program or from neuroplasticity or the concepts of neuroplasticity or brain retraining. Would you say that anybody who's been on a chronic illness journey regardless of the severity of their illness could benefit?
Ashok Gupta:
Yes. And the core reason for this is we believe that the body is its own best healer when it's put in what we call the optimal healing state. Generally in medicine we think, right, the body goes wrong randomly and we treat the body like a car. We need to fix that little piece over here or that piece over there and the person gets well again. But to me that's a model not fit for purpose. Instead, if we put the brain in the body in the optimal healing states where there's a natural balance between the sympathetic and parasympathetic nervous system, there's appropriate vagal tone in terms of the vagus nerve, all of these things, the body then becomes its best own detoxifier, it's best own healer, its strongest immune system that it can be.
Ashok Gupta:
And so many illnesses that the doctors found untreatable or they're just treating the symptoms, they come to us and then they find healing absolutely. So it's those whole suite of illnesses where the mainstream medical profession has done everything that they can do and now it's something new and different. And this is meaning a new paradigm shift in medicine because before, as I said, we treated the body like a car that kind of car it's easy and reductionist philosophy. Something goes wrong with the engine, we fix the engine. Something goes wrong with the tires, we go and fix the tires. But in modern cars, certainly my car, the biggest problem is the electrical system. That's the thing that's always malfunctioning, the software not the hardware, and generally our bodies are the same, I believe.
Ashok Gupta:
So what's happened is, medicine is focused on what it can see and measure which is the muscles, the hormones, the things that we can physically see and test and do all of those things that we do as practitioners. The big black box has been the brain, yep. And with modern brain scanning in the last 10, 20 years, we've been able to peer more into the brain but still it has that black box thing whether we have theoretical models but we don't know exactly what's going on in the brain.
Ashok Gupta:
And therefore the new medicine is figuring out specifically, it's what I call the electro biology, the idea that actually a lot of our illnesses, a lot of our imbalances are caused by the electrical faults in the system not the physical hardware. So brain retraining is an aspect of that, which is saying once we figure out what these systems are we can retrain them, bring the body back to balance. And a lot of the symptoms that we experience that a doctor may see in a surgery are downstream symptoms rather than the cause of the illness or the imbalance, and this go directly to the cause.
Ashok Gupta:
And what really triggered this for me was I went to India many, many years ago, decades ago. And I went to visit some family, they were actually very poor. They lived in villages in India in a certain part of India. And they were just really happy and uplifting. They lived outdoors and they were farmers and they didn't suffer from these conditions. I didn't see when I talked to them and the people around them, depression and anxiety and stomach challenges and this and that and the other, because they were living more according to their evolution and so they were physically active. They didn't have time to have these kinds of conditions. And I just thought it's so interesting that actually if you get the body into the right state according to our evolution biology, it becomes its own strongest healer and that's why we're here.
Nirala Jacobi:
You're familiar with the blue zones then, right? The places on the planet where people live the longest. And part of being community and healthy outdoor living and exercise and healthy eating is all part of longevity. And certainly what they all had in common is lowered stress and a few factors and they were not carbon copies of each other in these different places. But yeah, it's interesting for sure that more of a natural lifestyle it's actually a no-brainer that we would be healthier in that setting.
Nirala Jacobi:
Now, you also offer, and first of all let me say that it's just so beautifully done and as a fellow educator I just really appreciated the quality of your presentation and I loved seeing you in the Alps there on some meadow, that was just a very nice touch and the flowers. And so I really liked that rather than you being in an office and talking to the computer, that was really great. But in terms of practitioners referring their patients to your program, how can patients use the program but still follow their practitioner's advice? Because we're specific with what we want people to do in our own way, how do you match that?
Ashok Gupta:
Yes, many practitioners find it perfectly complimentary in terms of what we're doing. So we are saying the only thing where it may cross over is we say each what we call an anti-inflammatory diet but eat according to what works for you so that's very individualized. In the same way if someone's doing the brain retraining it's perfectly possible that they're also working with a nutritionist or a naturopath, working on all the physical elements, the herbs, the nutrients that the body requires. And that can work together so there's no difference in the philosophy.
Ashok Gupta:
The only difference is that what we're saying is get the body to heal itself. And all of these other things are also supporting the body healing itself and working on enabling the body to better handle these imbalances that are going on and to supplement these imbalances. So they work very, very well together. And we work with many integrative doctors, naturopaths, functional medicine doctors, who prescribe our program as a core part of the patient healing.
Nirala Jacobi:
And can you talk about the... I think you have some free time period that people can try out your program for free which I thought was really helpful for people just to see if it's for them. And also practitioners get to experience it for a little longer time.
Ashok Gupta:
Yes. We have a free trial, that's for patients. So patients can come on to the site and experience lots of free videos, lots of free resources to give them a flavor of it. And they get an access to the first three sessions of the Gupta Program. Now for practitioners, if someone's a registered practitioner and they have patients, then we're actually giving six months access for free to the whole program. Because what that enables a practitioner to do is get an understanding of the program themselves because it's very difficult to suggest it to someone if you haven't experienced it. They can watch all the videos, do all the meditations, et cetera, get a real flavor, and then see if it's something that certain patients they think could benefit from it. And they can... I'm sure you're going to put that in the show notes, the link for practitioners.
Nirala Jacobi:
Yeah. I just find that so amazing to be able to actually experience it. I've gone through the videos and the exercises and things like that so I really recommend practitioners at least take a look at it especially if you're dealing with chronic illness. Because, yeah, as I said, as somebody that treats chronic illness a lot I do find that aspect of it's almost like you're outsourcing that. You're outsourcing the brain retraining and which can be a really important part of healing for people especially if you're dealing with, yeah, like I said, MCAS, mold. I see a lot of mold illness because a lot of people their presenting symptom might be digestive disorders and it's actually linked to mold toxicity.
Nirala Jacobi:
And again, I want to emphasize that it doesn't mean that these people don't have some issue with detoxification or their inflammatory response is sort of altered, but adding in that brain piece can I think also streamline treatment. And one of the big hurdles that we face as practitioners when people are that ill is the reactivity to everything, whether that's supplements or medication or foods. I mean, the amount of people that I have that are restricted to five foods and anything I prescribe they react to, that's just a really challenging situation as a practitioner. So that aspect has been really helpful for me as a practitioner to have that down-regulated from where people can become a little bit more or little less reactive so that my therapies are also working a lot better, and so that part is really good.
Ashok Gupta:
Yes, absolutely. I go back to that analogy of standing on the bridge and there are people coming down the river. And so it works on both levels. You are jumping in and saving the people who have already come down river but you're also addressing who's throwing them in up river and actually dealing in both sides of it and both sides are important. So it's definitely very complimentary. And many a nutritionist talk to us and say, "This is such a blessing for us because people come into our clinic and we can see. When we talk to them we know that they've got stress issues. We know that they've got caught in some response that is keeping their bodies in this altered state. And we can support as much as we can from the biological perspective and the nutritional perspective but we really want that help to as it were calm the mind, we can see that's going to be so important."
Ashok Gupta:
And so it really just becomes so much easier when they can just say, "Outsource it or hand it over to a program that's now been qualified." And I think you may have seen we're the first neuroplasticity in the program in the world, the first limbic retraining program that now has a randomized control trial proving its effectiveness.
Nirala Jacobi:
Oh, wow.
Ashok Gupta:
We were just published recently in the Journal of Clinical Medicine, one of the top 10 journals. And we took two groups of fibromyalgia patients. One group took relaxation techniques and another group took the Gupta Program with an equivalent amount of practitioner time. And just after eight-week intervention in the control group there was no impact on fibromyalgia scores, but in the Gupta Program group there was close to a 40% reduction in fibromyalgia scores just within eight weeks, and we're a six-month program. And on top of that there was a halving of anxiety, halving of depression, halving of pain and a 50% increase in quality of life and the things that people could do.
Ashok Gupta:
So I'd love people to check that out on our website, it's a published study. And once again, what you can do when you're speaking to patients, they may say, "Oh, but this sounds very alternative." You say, "Well, they've got clinical evidence behind it. They're a published research showing it's effective, the gold standard of research." And that then really puts the patient's mind at ease that this is something that will help them.
Nirala Jacobi:
Yeah, that's fantastic. Actually I must have missed that part on your website. That's very encouraging and you ought to be very proud of yourself for having created such an amazing program. And I mean, also this whole... I mean, the area of chronic illness and especially digestive issues has recently also seen a lot of emphasis on therapies like hypnotherapy and other sort of... They're not really brain retraining but the relaxation which just reiterates to me the involvement of the nervous system in these conditions.
Nirala Jacobi:
Ashok, this has been so enlightening in terms of what people can do. So just to reiterate, practitioners get a six-month trial period and patients can try it out for I think two weeks or 28 days or so. They can just see if that's a good fit for them. You also have a beautiful handbook that comes with it and all that so I certainly will promote your program. I think it's a wonderful addition to what we have to offer as a practitioner. And listeners, you can find all of those links in the show notes. Any last thoughts or pearls that you want to impart on our audience?
Ashok Gupta:
Well, firstly we'd like to give a 15% discount to all of your listeners if they use the discount code SIBO, for instance, and then they'll be able to get a 15% discount. And, yeah-
Nirala Jacobi:
Yes, that's S-I-B-O, by the way. S-I-B-O, for those of you who don't know how to spell that.
Ashok Gupta:
And yeah, the inspiration we want to give to everybody is, you may have been part of support groups or certain doctors that say, "Oh, you can't get better from this, there isn't the hope." I want to give that inspiration to everybody. There's so many people healed from these chronic illnesses and chronic conditions. And wellness is our birthright. We're on the dawn of a new medicine where these chronic illnesses I think eventually we'll be part of our history, they won't be here anymore because we would have figured out what's going on in the brain, what's going on the body. That's the hope I want to give to everybody, is that keep going, keep trying, keep trying things and I'm sure you'll be getting to healing very soon.
Nirala Jacobi:
Thank you so much.
Announcer:
Thank you for listening to The SIBO Doctor Podcast. We hope you find the information in this episode useful in the treatment of your SIBO patients. Thanks to our sponsors, sibotest.com, a breath-testing service with easy online ordering, and QuinTron, the maker of outstanding breath-testing equipment. Thanks again for listening.