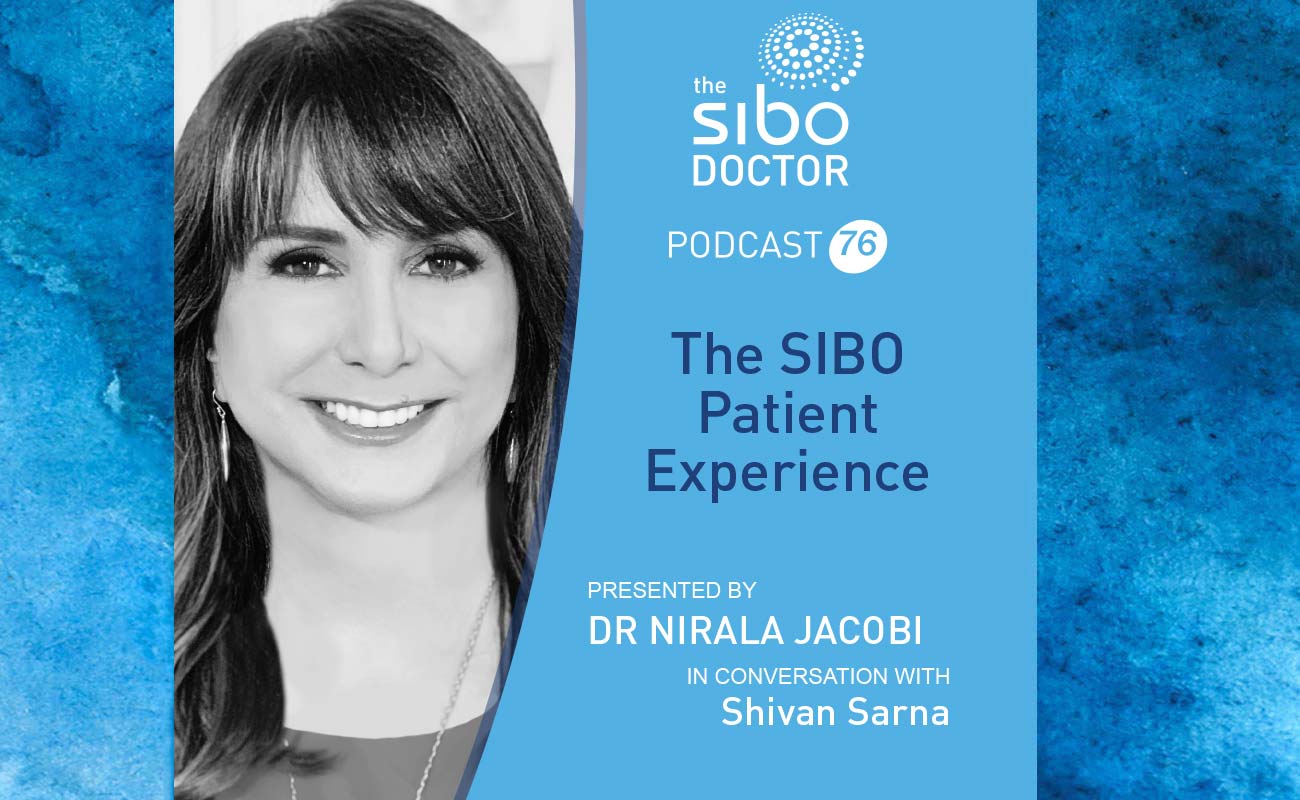 The SIBO Patient Experience with Shivan Sarna
After dealing with her own health issues, Shivan made it her mission to demystify her condition and to share that information with others who were struggling. Her special skill is finding and connecting with the leading expert doctors and connecting those experts with the people who need their help. And she has just published her book, Healing SIBO.
Transcript
Announcer:
Welcome to The SIBO Doctor Podcast, hosted by Dr. Nirala Jacobi. Medical experts join us to discuss functional digestive disorders, clinical practice, and research as it relates to SIBO and associated conditions. This podcast is intended for SIBO-treating practitioners and aims to help educate how we may best serve our SIBO patients. Head over to thesibodoctor.com and sign up to the SIBO Mastery Program and take your SIBO knowledge to expert level. If you're a patient, you can sign up to the SIBO Success Plan and beat SIBO for good. Please note, this podcast series is not intended to diagnose or treat medical conditions. Ask your doctor before initiating any new treatments. And now over to Dr. Jacobi, and the latest episode of The SIBO Doctor Podcast.
Nirala Jacobi:
Welcome to another episode of the SIBO Doctor podcast. Today, I'm talking to Shivan Sarna, who is certainly no stranger to the SIBO community. Many of you will know her as the host of the popular SIBO SOS online summit series, which I participated in as well a few times.
Nirala Jacobi:
After dealing with her own health issues, Shivan made it her mission to demystify her condition and to share that information with others who were struggling. Her special skill is finding and connecting with the leading expert doctors and connecting those experts with the people who need their help. And she has just published her book, Healing SIBO. So a very warm welcome to you, Shivan.
Shivan Sarna:
Thank you so much, Nirala. Dr. Jacobi, you have been such an inspiration to so many of us SIBO patients, and you have led the way in just thought. So thank you so much for all the work you're doing and I love your podcast. I'm a huge fan. I like.
Nirala Jacobi:
That's so sweet. Thank you so much. Actually, this is not about me, this is about you, but thank you very much for that intro.
Nirala Jacobi:
Now, Shivan, it's just been amazing to see all the different summits that you've put out over the years and all this plethora of experts that you've gathered, and all this input has really created this kaleidoscope of treatment options for patients.
Nirala Jacobi:
I wanted to do this podcast to have more of the patient perspective because you yourself are a patient and you've just published your book, Healing SIBO. So yeah, it's a wonderful time to talk to you, to kind of see all the things that have brought you to this point, and what's happening right now.
Shivan Sarna:
Well, thank you. The book is Healing SIBO, fix the real causes of IBS, bloating and weight issues. The publisher wanted me to say in 21 days, so I did create that plan, but I'm putting that in parentheses.
Shivan Sarna:
My journey started when I was five, when I went to India with my parents and drank water Buffalo milk that was unpasteurized and became very ill. Then I recovered and I went to a working farm as a city slicker young child, and we milked cows. And I drank unpasteurized milk again.
Shivan Sarna:
Now, I don't think it was a lactose scenario, I think it was another bacterial scenario. But I got food poisoning, so to speak, and was never the same. As a young person, five, seven years old, my father, who's Indian from India with a knowledge of basic Aryuveda noticed that I wasn't going to the bathroom regularly. And I remember my mom asking me about it, and that was my first experience of shame around going to the bathroom like at seven going, mind your beeswax, because I felt inundated, which is just like bizarre, where did I get that from?
Shivan Sarna:
But my SIBO wasn't diagnosed properly. When I finally heard that a condition called SIBO even existed, I did a breath test that I had to beg my doctor for, went to a university in Florida and sat in the doctor's office, foyer in the waiting room, and did the SIBO breath test.
Shivan Sarna:
I really didn't even know what it was, honestly. I just got some results. They said it's negative, and I thought, "Oh, okay, well nobody's going to explore this because it's negative." And I went finally to another doctor who I call a digestion detective who sat with me for a full hour in my first appointment, which is phenomenal for a gastroenterologist that's been traditionally trained. And he said, "Listen, I think you should do another breath test, and I'd like to see the results of your first one." We got those results. We saw the graph. That's why I always tell people, "Get the graph, not just the yes, no." And someone had written positive, crossed it out and wrote negative on that first test.
Shivan Sarna:
So there was that. I got treated, I did the traditional antibiotic route. I also did the herbal route, which is closer to my heart. And slowly but surely I started to get better and better. I did do the IBS smart test, so I did get the blood test to see if I had antibodies from food poisoning, which I did do. And therefore I'm very, very... Strict isn't the word, but I'm very compliant with my prokinetics. And part of my message, other than what to do to heal SIBO in conjunction with your doctor, or as much as you can DIY yourself but with guidance, is if you have a chronic condition, if you're managing it, you can still feel 100% better even if you can't "cure the underlying cost". Because I think we get very black and white about these things and it's very like, "I want it on paper that I'm cured," but what if it's not on paper that you're cured but you still feel great? Like, "Yay, I'll take it." Right?
Nirala Jacobi:
Yeah. I think you actually bring up a really good point because people are sort of very attached to the number game. I mean, I see a lot of... I don't see the really easy cases anymore really, I see mostly the very complicated cases that have SIBO just as a component. It's just one aspect of what's going on with them.
Nirala Jacobi:
And there is so much information out there that people have taken the reigns of their own healthcare, and that can sometimes backfire because they kind of build a whole house of cards on wrong information, for example. And they get deeper and deeper. And actually just recently, I've had the number of patients who are almost argumentative with me in aspects of their care that I was just questioning, but they are so attached to what they think is going on with them.
Nirala Jacobi:
But anyways, I digress, but you probably have seen that a lot as well, where you manage the SIBO SOS, which is... I love that it stands for SIBO, Saving Ourselves, I think, right?
Shivan Sarna:
Yes, you got it.
Nirala Jacobi:
Yeah. I mean, I'm all an advocate for healing yourself, and I think the message there is that we need more educated doctors. We need more people that really understand what they're doing so that they can guide their patients, because patients are frustrated.
Nirala Jacobi:
And so you've created all these summits that initiated all of this and brought you to this point where you wrote your book. What have you learned along the way from all these summits that you've put out, the SIBO SOS summits, and then subsequently other types of education that you've put out there.
Shivan Sarna:
One of the side notes was what I just talked about, about how my perspective about a chronic condition has changed. It's a much more of a mature approach, right? It's like a wise approach versus... As one matures, we get wisdom, hopefully. That's the sort of the takeaway on that, is that I can feel so much better, it doesn't matter on paper if there's a gas level or anticoagulant do that or whatever. And that persistence is really important.
Shivan Sarna:
But in terms of the medical perspective, working with a trained specialist via Zoom or online, which I've been doing for so long way before everybody was making it common. One hour with that person can be worth a hundred hours with a person that's not trained.
Shivan Sarna:
Anybody who has resistance to working with someone that you're not in the same room with, please try to evaporate that so that you will take the plunge to work with a specialist who can save you so much time, energy, and money. I, initially, was a little resistant, but was still enthusiastic and it was great. Like the first five minutes, you know. You're talking to someone who gets you, who gets the language, and it's very exciting.
Shivan Sarna:
So be on fire about finding the right people. And then as far as a couple of switches in my brain, meal spacing. I was told to eat small meals throughout the day. Well, that's not how the migrating motor complex works. You need to have meals spacing. Maybe intermittent fasting works so beautifully for so many people partially because they're migrating motor complex is sweeping. No one talks about that in the fasting world.
Shivan Sarna:
And then the other thing is... There are several things. But there is a different perspective about how I eat, the portions, chewing concept, just the whole food hygiene has come forward in my life. I really tried to savor the food that I do eat. And I also don't have food fear anymore once I figured it out, because before if I ate a piece of food and had a reaction, it was just tragic. And it can feel that way. I'm not diminishing that at all. But there was a little bit of relaxation that comes when you really know the conditions you have, you know what the treatments are, and then you can decide, "Am I going to be compliant today or not?" Because you are your own advocate.
Shivan Sarna:
And the SIBO SOS, the SOS does mean Save Ourselves, but I am an advocate for people working with other smart people. I am not a bio-hacker where it's like, "Yeah, go do your own thing. See you. Love you. Bye. Go off and buy in bulk and blah, blah, blah." That is not an intelligent approach for me in my conveying of my message, it is find smart people like I did. Here they are. Work with them. Follow a plan. Find out if you also have other coexisting conditions, what's your underlying cause? Is it opioids after dental surgery? Is it endometriosis? Is it adhesions? Do you have mold exposure? There is a treasure trove of information that needs to be revealed if you have chronic SIBO, what caused it, how to address that, and then how to treat your SIBO? But finding that underlying cause is always paramount.
Nirala Jacobi:
In that world of patient advocacy that you really do, and I think you have also several Facebook groups and thousands of thousands of people-
Shivan Sarna:
It's 18,000-
Nirala Jacobi:
Yeah, one big group.
Shivan Sarna:
... people in the SIBO SOS group.
Nirala Jacobi:
How many?
Shivan Sarna:
18,000.
Nirala Jacobi:
18,000. Yeah, that's good.
Shivan Sarna:
We do have some Facebook pages, but they're not as exciting. So come to the SIBO SOS community.
Nirala Jacobi:
Yeah. What do you find is the most common experience that people have or the most common questions that they have? I think it's good for practitioners who only see their own patient base, what else is out there that people are having the most of their questions about?
Shivan Sarna:
A lot of people have questions about the herbal protocol. A lot of people have questions about what's a prokinetic that has worked for you? If they do take something and it doesn't react well, they're asking a lot of questions about that. We don't give medical advice, we're just giving personal experience. And also referring like, "This person in Australia really helped me." And that kind of thing. A lot of sharing.
Shivan Sarna:
There's also an emotional component to the grief of having a chronic condition. And I think that gets brushed over a lot. I talk about it in my book. I started breaking it up as often as possible. But this is a cycle that I see a lot, "I've tried something, I've tried something, I've tried something. I've tried 'everything', nothing works. Everyone wants to take my money. I hate life. And I'm going to go sit in the corner and pout." And that is not me being a jerk, I get it. I have been there myself, right? Like, "I'm going to go eat worms and life sucks."
Shivan Sarna:
So I see that as a cycle. And interestingly enough, I see it around... This is weird, but it's really proven itself around the holidays, around tragic events on the planet where people just they can't take another bit of stress and grief in their bucket. And I really understand that. So I'm glad we're there to support.
Shivan Sarna:
But the question when you do have enough resilience to start getting back on the program that you're trying to figure out is, you haven't really tried everything. Like seriously, there are a variety of things you can do, and thank God. There's some people who don't even have even a suggestion of a Rifaximin, neomycin or [inaudible 00:14:26] ARBR or an elemental diet. People are still trying to figure out what their condition is even called.
Shivan Sarna:
The other thing is there tests that you can do to find out if you do have these conditions, which is huge. These are new developments. Do you have parasites? Do you have Candida? These all mimic each other? So you do a treatment round, you don't feel better, you didn't retest, so you don't even know if the treatment round worked. You don't feel better. That's a frustration cycle I see a lot, Nirala.
Shivan Sarna:
So I always encourage people to retest if they can afford it. And to also, if you're not getting better, let's say you do have a negative SIBO breath test and you're still not well, do you have leaky gut? Yes. Do you have parasites? Maybe. Do you have Leibow? These other conditions that certainly are treatable. But it's frustrating because you think, "Yeah, I got a negative SIBO breath test," and then it's like, "Wang-Wang, I still have work to do." So hang in there.
Nirala Jacobi:
Yeah. It's been quite a while where I only really exclusively focused on SIBO because I always think about it more like a train station. There a lot of people that are on that same platform, but they took a lot of different routes to get to that platform. You can't have a one size fits all protocol. I mean, I do, I always customize it to each patient, and that's why it's so very important that you don't just get the understanding of SIBO but also understanding that just what worked for that person is really maybe not going to work for you because it's so beyond just using anti-microbials for me at this point.
Nirala Jacobi:
I find that the bacteria, and this is what I said a lot, is treating the bacteria is not hard, it's about understanding what got you to this place, and there are so many different things that are involved. And I'm glad you brought up all these underlying causes because I take that very seriously of what is the story here?
Nirala Jacobi:
I think that SIBO is also morphing, not morphing, but the diagnosis or the concept of SIBO is broadening to really include much more microbiome dysbiosis in the small intestine. And as we start to understand that more with Pimento's work that's come out, but also other researchers, I think we're going to see a lot more, probably positive response rate from patients when we really address these microbial imbalances rather than just let's kill something. So more of a rebuilding aspect. Yeah. I think it's important for people to understand.
Shivan Sarna:
It's pretty exciting actually.
Nirala Jacobi:
Yeah. Yeah.
Shivan Sarna:
I think it's a time of hope because 10 years ago, even 20 years ago, look, I had SIBO back then, I didn't know what the heck it was. I just was trying to get through the day. And then a mold exposure, chronic mold exposure definitely put me over the edge into my crisis state, which led me to going to the first set of doctors and then realizing I had to find other doctors.
Shivan Sarna:
But it is a hopeful time. It's not time to go, "Oh, this sucks, it's never going to get better." It's time where, "Look, there's a list of practitioners that can help you that are specialists. You don't have to leave the house to take a SIBO breath test. You can get a traveling phlebotomist to come to your house to do a blood draw if you wanted to do the IBS smart test."
Shivan Sarna:
I mean, it's pretty fantastic, depending on where you live of course. Here in the states it's 20 bucks to get you started, which I would have paid thousands of dollars for this information I did when I first started and first got on this journey. The movement, no pun intended, is really out there and there's velocity to it now. And I do think that they're going to find a lot of answers to your point where contextually we all holistically can more easily get better and better to the point of where you really are well. And I see it and I feel that I taste it. I know you see it all the time with your patients. It's pretty exciting.
Nirala Jacobi:
And in terms of the amount of practitioners that you've had on the various summits that you've hosted and have put out, I mean, there's been probably hundreds and hundreds of practitioners that you've interviewed. Can you talk about that a bit in terms of what's been your experience with being exposed to all this whole variety of healing options?
Shivan Sarna:
I think that it's an investment. It's not always going to be inexpensive. I think if you take the advice, it is a good investment. If you have already decided it's not going to help before you even show up to the appointment, then you're not mentally ready for it yet, so maybe you need another couple of weeks. Maybe you need to take a few days off. I think there's a mindset around appointments, that if you are finally talking to a great person, number one, they are not God. Okay? So if they don't figure it out quickly, don't be devastated, they need to get to know your case. Give them a chance. Go back for that second appointment. And if your needs aren't getting met because they aren't answering all your questions, see if they'll book the extra half hour with you. I mean, you're not a victim, right?
Shivan Sarna:
So you have help mates, they are sincere, they want to help you. Have the mindset that you're a partner instead of that original concept of SOS, here, big mama, big daddy, save me, instead it's save ourselves and work with that practitioner.
Shivan Sarna:
I think that mindset's really important. And if you are going to a practitioner who's not fully trained, then help them. Let's say they're 70% great and they'll write you a script or they'll... Ordering the SIBO breath test and all of that, and they'll be cooperative based on your suggestions, great. Print out some and email studies to them. Be a partner for yourself and with them.
Shivan Sarna:
And if you have a practitioner, a traditional practitioner who says SIBO doesn't exist and you relapse so much, nobody gets it. Oh, here take... I've heard a lot of people get partial advice that's wrong that will end up hurting them. So you need to go into that appointment with the right attitude, with some information, with an open mind and open heart, and give that person a chance to get to know you, to get to know your case, and then make a plan and follow up.
Nirala Jacobi:
Yeah, I think that's really good advice in terms of also being really prepared and understanding your conditions as much as you can. And that's where your book comes in handy, Healing SIBO. I've created a course called the SIBO Success Plan that walks people through. You've created some stuff. So there's lots of information out there where you can really educate yourself about all the different possibilities.
Nirala Jacobi:
I also want to mention two people who are patients that are listening, about what caused my SIBO questionnaire, that you can download for free, that you can take to your doctor, that might pinpoint or narrow down the field as to what may have caused your SIBO. So that's a free resource you can download.
Nirala Jacobi:
Now, in terms of modalities, in terms of people that you've interviewed, you've had naturopathic doctors, you've had medical doctors, researchers, nutritionists, homeopaths. What was some of the most interesting and colorful experiences you've had talking to practitioners of all these different backgrounds?
Shivan Sarna:
I would say the adhesion piece was really interesting to me. It was unexpected. Dr. Steven Sandberg Lewis with his bodywork, the ileocecal valve manipulation that he does. And I know he's taught through your practice to people around the world, which is so cool. He's amazing. But the Bodyworkers have been really interesting, the visceral manipulation. The Warren technique clear passage, out of Gainesville, Florida, and they're training people around the world.
Shivan Sarna:
I mean, that's the answer for a lot of people that I don't think people give enough credit to. So that, I think, was really interesting. I think that acupuncture has motility points that when you can manipulate with acupressure every day can really help. I did go to an Ayurvedic physician in the very beginning, and he was not familiar with SIBO because it was kind of an overlap of going to him and realizing what SIBO was when I had it, it was very in the beginning.
Shivan Sarna:
And that was fascinating. And I'm a Yogi at heart and half Indian, so I'm very into that. They don't approach things the way we're used to in the Western world, but that was fascinating. And Ginger, being such an incredible prokinetic, I think they were like they don't really have to address it because it's part of their culture, it's built into their food and the like.
Shivan Sarna:
Those are just some side thoughts on it. But I think that with the right knowledge and then working... This is what I wanted to say about nutritionists, the most underrated practitioner out there. With every penny you spend to have someone sit with you and go through what you're going to eat, why you should be eating it or not, and trying to expand your diet, I found that that, and continue to find that to be one of the most underrated and underutilized practitioner out there.
Nirala Jacobi:
I think that's a really, really excellent point, especially if you've got food sensitivities or are not a good cook or somebody who really struggles with meal planning. Ann Criner is our clinical nutritionist here and I refer to her all the time. It's just been a really great resource. And the other thing that you said that I really wholeheartedly agree with is visceral manipulation. And there are different types of visceral manipulation. It's not just the Warren technique. And I've learned to refer a lot more to visceral manipulation therapists. Even if there isn't a history of endometriosis or even if I don't suspect adhesions, I find that people are very, very guarded often due to ongoing emotional issues and whatnot. I find that just a really gentle release technique that can really open up some things for people. I'm glad you mentioned that.
Nirala Jacobi:
All right. Excellent. I'm really looking forward. I haven't actually even read your book, so I'm going to have to review that. So where can people find it, and can you just give us the brief structure of what's actually in your book? What are you covering?
Shivan Sarna:
Yes, absolutely. Thank you. It's on Amazon in the US. We are working on a broader global ability to get it. We're expanding to the UK right now. I definitely want this to go around the world because so many people need it. So if anybody has any suggestions for helping, thank you.
Shivan Sarna:
It is a forward by Dr. Alison C. Becker, my story, and an overview of that plan. You will have a plan in the 21 days. I tell you what to do each week, get the breath test, make an appointment. I take you through all of that. What is SIBO and how do I get it? Is SIBO controlling my weight and making me anxious? Talking about a lot of that research. Your SIBO medicine cabinets, simple remedies for symptom relief. And then to change your diet to change your life. The 21 day plan. How to destroy the bacteria but know that that's not the only thing you need to be doing. Okay? Retesting, relapsing and retreating SIBO friendly recipes. And then an appendix.
Shivan Sarna:
So the recipes are... I'm not a good cook, Nirala. Okay. So I worked with Kristy Regan, incredible SIBO nutritionist, and she helped me with developing these recipes. She made them and I made them. I'm like, "If she can make a mess, fine. If I can make them now, we're making progress here." And they are delicious creamy, spinach artichoke dip. I mean, my mouth is salivating. Delicious soups and Frittatas and pureed carrots, which sounds simple but we make it extra special good. Honey macaroon.
Shivan Sarna:
So there are a lot of recipes and it is vegetarian, which is veggies are the tricky part, right? With the carbs and everything. This is why I did that. Number one, I'm a vegetarian, but it doesn't mean anybody else has to be one, that wasn't my agenda. I don't have an agenda. I think you can always put a chicken breast on there, people. You can pick your protein, right? That's not the hard part. The hard part is getting the rest of the recipe to taste good.
Shivan Sarna:
So each recipe, by the way, does have it notated if it is okay in the Bi-Phasic diet. And super specific food guide. A specific carbohydrate diet. Oh yeah, we got a shout out to Dr. Nirala Jacobi all over the place in this book. So yeah.
Nirala Jacobi:
No, I'm glad that-
Shivan Sarna:
[inaudible 00:28:23].
Nirala Jacobi:
Yeah. I'm glad that it's going to be also usable for people that are on the Bi-Phasic diet. That's great. We're actually working on sort of another hybrid where we combine the vegetarian and the regular Bi-Phasic diet a lot more and give people more options and stuff because we just love that vegetarian Bi-Phasic diet, it's such a great resource.
Nirala Jacobi:
Excellent. Well, I'm so happy that I had a chance to talk to you, Shivan. And wishing you really all the best with the success of your book. We know it's needed. I mean, I talk to people from all over the world and it's always shocking to hear how little education there is about SIBO in the professional world. So I'm hoping that also professionals are taking you up on that and reading about it and understanding more about what they need to do for their patients. So thank you so much, Shivan.
Shivan Sarna:
Thank you very, very much. Be well, everybody, you can do it.
Announcer:
Thank you for listening to The SIBO Doctor Podcast. We hope you find the information in this episode useful in the treatment of your SIBO patients. Thanks to our sponsors, sibotest.com, a breath-testing service with easy online ordering, and QuinTron, the maker of outstanding breath-testing equipment. Thanks again for listening.