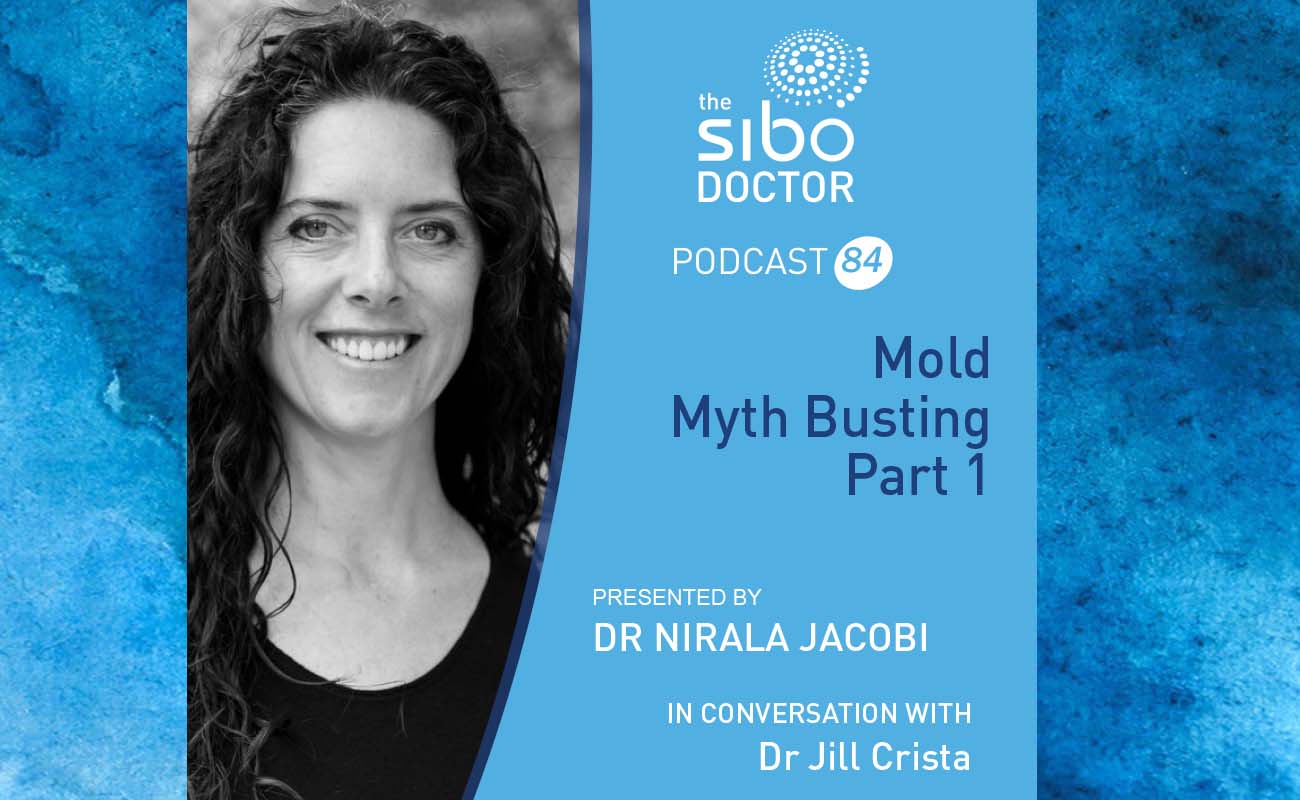 Mold Myth Busting with Dr Jill Crista - Part 1
Register for Dr. Crista's Mold Course
Welcome to another episode of The SIBO Doctor Podcast. I'm your host, Dr. Nirala Jacobi. I thought I would re-invite a previous podcast guest, Dr. Jill Crista, because in our region where I live and work and where we have The Biome Clinic and our SIBO testing, we have experienced very severe flooding in the past month, two flooding events in our region here in the northern rivers area of New South Wales. And I thought I'd talk to a mold expert because a lot of people who have had their houses flooded not once, but twice are really facing some difficult hardships to make their houses livable again. And mold is a really big issue for these people.
So that happened about a month ago, then about a week ago, we had a second flooding event and I got COVID. So this is why you haven't heard from me last month and I'm still a little bit under the weather. But I thought it's important that people get very valuable information, and it's relevant to anyone now these days, because as climate change intensifies, these events will get worse, I believe. We've seen already a lot of flooding events around the world, and it's important to kind of prepare yourself and to also know what to do with your house and your belongings once the unthinkable has happened.
So I want to welcome Dr. Jill Crista. I've done a podcast with her a year or more ago now, maybe two years, I can't remember. But basically, she had just published her book, Break The Mold. She is a naturopathic doctor and bestselling author of this book, Break The Mold. She's a mold expert and nationally recognized health educator of neuroinflammatory conditions such as mold and mycotoxins. And her is improving health through education and bridging gaps between medical research and clinical practice. She writes books and also offers online courses. And I wanted to invite her back here today to talk about some concrete ideas and maybe myth bust of some treatments that people are doing to remediate their houses and what they can look out for.
So welcome, Dr. Jill Crista, to the podcast. I know you're very, very busy writing your second book. So we are very grateful to have you on the show to give us some tips on how to prevent the worst with mold overgrowth in water damaged buildings.
Jill Crista:
Thank you for having me, you know I love to do this, to help people. Boy, if you have a crew there that needs some help[crosstalk 00:04:13]-
Nirala Jacobi:
Yeah. As I said in the intro, there's been a lot of trauma also around the flooding experience. But what I wanted to do today is just offer some real concrete help and tips of what people can do in the first aftermath of a flood to prevent some of the worst of the mold damage. And one of the big issues that we face in the northern rivers here is that they're just not enough mold inspectors and mold remediators to take care of these kinds of issues. So can we start today with just kind of defining what a water damaged building can maybe grow? Is it just mold or are there other issues and then kind of move into remediation or testing or those types of topics, but yeah, just talking about what's the issue with mold?
Jill Crista:
Yeah. A water damaged building will host mixed microbes. So mold is definitely one of the things we're worried about, but also bacteria and bacteria can make... Depending on the type of bacteria, there are actinomycetes, which are soil bacteria. They're one of the most prevalent bacteria and oldest bacteria on the planet. So that's going to be something that maybe came in from the outdoor air and if it finds the right environment, it can set up just like mold. And that has a secondary metabolite that basically acts like an antibiotic, so it can really rack your gut flora. And there's also bacteria that make LPS or lipopolysaccharides, which is a cell agitator. It's on the outside of their cell wall, but it can agitate our gut and also affect how our brain works. So you can get brain fog, those kinds of things with the bacteria.
So we have mold and we have bacteria. There are some critters that like to feed off of those, that are biting insects. So there's a whole host of things. I put my focus on mold because the intention in the toxin of mold is to harm something else. The other ones, the bacteria, those are just a factor of them metabolizing and growing. Mold has those as well. It has these off gases, so you can get alcohols and aldehydes and VOCs from regular living mold. So I call those mold farts, just because it's funny. It's just metabolic gas and off-gassing. But the mycotoxin will be made by the mold to defend its territory. So if there are other mold species, other mildews, other bacteria that want to come into that environment, the mold will start to get aggressive and it purposefully will make this mycotoxin to compete with the other molds in the environment.
That's where we run into problem because that intention is to cause harm to another living being so that the weapons, so to speak, or the strength of that toxin is much higher than the other types of toxins that we to find in a water damaged building. So I just scared everybody.
Nirala Jacobi:
Okay. Yes. So it is... And is there any... Look, these people's houses were completely inundated and some to the ceiling. So besides removing all the drywall or gyprock and insulation and all of that, what are some of the first steps or first things people can do to minimize mold growth?
Jill Crista:
To minimize first of all, the damage to yourself. So make sure that if you are entering back into that building, that you have all of the gear to make sure you're protecting yourself. And that is head to toe, lungs, eyeballs, everything. So you want to get one of those Tyvek suits that they use, the men in white kind of thing. And that should have something that covers your hair because the particulate can get into your hair, so you want to be covered from head to toe. You cover your feet, your shoes, have gloves. So the Tyvek suit should be something... You can get them either without a hood or with a hood, without hand covering or without foot covering or with them. You want to be the person that's covered from head to foot. If it doesn't have hand ones, you can use simple medical gloves, but double glove and then some kind of respirator to make sure that you're protecting your lungs.
Some people get something that looks a lot like mesothelioma from mold fragment exposure and in a freshly watered growing mold there are going to be a lot of fragments in the air as well as spores. So you want to use an N90... I'm sorry. Not 95. N100 mask. So that's going to be a respirator that has two, we're getting more familiar with what a respirator looks like with COVID. So you have the two filters that go on that, that is a N100 rated, so that you're getting the ultra fine particulate, because it's that ultra fine particulate that can really make you sick. So that all goes on before you even step in that building. And then the gold standard is removal. And this is where I see people get into trouble because don't want that much disruption in their homes. So anywhere that there is visible mold or anything that has been wet, the gold standard is to cut that out.
And the sooner the better, because that's less of a chance that there's been mold growth. So mold can grow within 24 to 48 hours. And as soon as you can get back into that house, the better, because then you can get some of that wet material cut before there's mold growth and it reduces the potential harm to you. And that gives you a clearer... Then you're not doing remediation because you're not trying to get rid of mold. You're doing prevention and that's a key. So let's assume it's been two to three weeks since you've been able to get into the home, maybe there is some mold growth, truly removal of the material is the gold standard for remediation of anything that is visibly affected, either wet or moldy. And if it's moldy, it needs to be... Removing that material plus two feet beyond that because mold is microscopic, so it had a chance to probably send out its little babies to any neighboring tissue, and or neighboring material and then that can become moldy the next humid day that you have.
And then also getting the humidity down in the space. That is just ginormously huge for people. So that space is going to be... You'll have things like support beams that can't be removed. So what the heck do you do with those? So let's assume you can get all of the gyprock, the dry wall, the insulation, any foot boards or anything like that that's wet, that's got to come out. If it's made with real wood, sometimes you can remediate that using things like... A lot of remediation companies will have these booths that you can put material into. So you can remove, let's say you have something that's an antique molding that you just can't part with, you can try to remediate that if it's solid wood, by putting it into these hydroxyl booths, ozone booths, essential oils, sunshine, drying it out as quickly as possible fans, that kind of thing.
But you must remove to get as much air movement as possible. You can't dry out the insulation behind drywall using fans. That's not ever going to get dry enough. You have to remove that material to get it dry enough. So get down to the studs, which really upsets everybody, and I 100% understand that. With your protection and in a perfect world, that would be also under a containment situation where we've contained the affected area of the house with plastic and sealing it with strong tape, like gorilla tape and then... That's the minimum that you should be doing, is protecting the healthy part of your home. Let's say the upstairs or if your furnace or something like that, like you... That's going to be a problematic area potentially. So you want to protect anywhere that is still healthy by sealing off the area that's been affected before you start tearing things up because you will cross-contaminate that dry area. Once you[crosstalk 00:12:54]get all of the affected-
Yeah, go ahead.
Nirala Jacobi:
Oh, sorry. I just wondered about hardwood floors. What do you do with those?
Jill Crista:
There's subfloor underneath that and that's going to be impossible to dry out. It really is. And that's going to be something nobody wants to hear, but we want it to be able to be dried out with fans and that kind of thing. But think about it, the hardwood floor, that's at least a half inch, if not more, of wood and the only access for the subfloor underneath to get any airing out is the little cracks in between and on a humid day the wood swells and so you don't really have the cracks. So the subfloor underneath will become moldy and will make you sick and you won't understand why you don't feel good because you can't see it. So yeah, subfloor is very thirsty. It's like a sponge and mold can grow within 24 to 48 hours. So that can become just basically a sponge continuously growing mold underneath your flooring, which is a heartbreaker.
Nirala Jacobi:
Yeah. The whole thing is completely heartbreaking. And in our area where there's thousands of houses affected, it's impossible to do some of the safety precautionary gear that you talk about. People just do the best they can and it's just all their belongings out on the street and carpets and walls and everything else and they're just trying to save their house best they can. But it's important to understand that it's still possible obviously to grow mold, even if you've ripped everything out. What do we do then? What do we put on or spray on it or what actually works? You hear a lot about these essential oils and vinegar and people are mixing up bleach solutions. So what's the best scenario here for prevention or treatment of the exposed areas?
Jill Crista:
Yeah. So once you get all of the wet material out and cut open so that you get access. So again, the framing members because their solid wood and because you can get access to them on all sides, except for the one on your siding or concrete or something like that, sometimes those can be retained in the area if it's a support beam, but if it's not necessary for support of the home and it's been deeply affected that's going to be a potential source of mold growth in the future, especially when you close up that wall. So once you get access to everything, then getting it dried out, the humidity down in that space, as much as possible. Especially those of you on slab, that slab also acts like a sponge and so it will have taken up a lot of the water and it will slowly over time bleed that water back out into the space. So it evaporates back into the space.
So if you can get that dehumidifier running, I'm a big fan of dehumidifiers, even if you don't have a mold problem. But if you have this saturated slab or you have saturated materials running a humidifier is going to be very important and you might need more than one to keep the area low in humidity. And then I like to use essential oils directly spraying. I did an experiment in my own home when we had... I had mold in my own home and we tried very many different things. When you spray a spray onto something, what we found is you actually water the mold. We had two more more toxic species on the areas that were spray treated than the areas that were left alone. So you want to be really careful not to add more humidity to the problem. Don't water the mold for it.
So you can use essential oils, which are not... They're liquid, but they're an oil and they're a volatile oil. And you can just wipe those directly on areas that have been affected. They're pretty hard on the eyes. They're very strong. So just make sure that you're wearing eye protection. Those could be things... I've had patients put essential oils on a little bit of cotton ball in the flooded areas and just continuing to re-soak those cotton balls so that the essential oils are continuously volatilizing out into the air and you're not adding more water to the problem.
So these essential oils, what they do is they reduce the mold's ability to make mycotoxins, and that's what can make you really sick. Let's say it's in a 13 by 13 bedroom, you would have like 8 to 10 cotton balls spread all over the floor because the volatile oils will go up.
Nirala Jacobi:
I see[crosstalk 00:17:46]you're not wiping.
Jill Crista:
So you want to have the at lowest part. Right. And then if there's a framing member or something, let's say it's 3 feet of the bottom of the framing member, then you maybe would wipe that member down, if it's a support beam and you can't remove it. So you're trying to saturate it with the oil so that it gets that volatilized mold static effect on it.
Nirala Jacobi:
Okay. I think this is a really important point because I'm thinking of the sprays that people are using right now with the diluted oils, the 10 drop of clove oil in vinegar, water, spraying that water all over. I'm thinking about the, what are they called? These diffusers that also use water. So[crosstalk 00:18:31]you're not recommending any of that. You're saying saturate a cotton ball, leave it in different areas. Should this be like... Obviously, everybody's trying to ventilate and get as much airflow in there. This is once everything is dry or what's the best time to do this?
Jill Crista:
Yeah. It gets a little into the weeds on that, because you're thinking, wait, now that's just going to volatilize out the window. So yeah, once you get to a point where you don't have the windows open constantly, and it depends on the humidity of where you are. If you're having a really humid day, it might be better to close everything up because you're preventing more humidity. Humidity is the enemy from this point forward. And there have been... You know, over 50% humidity can grow mold.
Nirala Jacobi:
That's really low.
Jill Crista:
In my area, we don't get below 50% very much at all[crosstalk 00:19:25]-
Nirala Jacobi:
No, we don't get it either.
Jill Crista:
... yes. Yeah. And so that is a... It's kind of a hard thing to do because you want to have the windows open and the fresh air, but at the same time, you're going to pay for that by having a house built the way we build houses right now, which are with previously living organic material. Well, what is mold supposed to do on the planet? It's supposed to decompose previously living organic material to make it into nutrients for the forest to eat or for the critters to eat or the plants to eat wherever you are. So we're confusing the mold because of how we're building our buildings. And so you do have to do things that are a little against nature, meaning keep some windows closed and use a dehumidifier to keep your indoor space low enough to prevent mold growth.
Nirala Jacobi:
So you hear a lot of about this formula of vinegar and a few drops of clove oil. And you mentioned that all adds moisture, but I think you have a cleaning formula for us that you can share.
Jill Crista:
Yeah. You're right. If you add vinegar and essential oil, the big question is what is the concentration that will be mold killing versus mold preventive? And so when we get into the mold killing stage, that percentage of essential oil to liquid needs to be so high, that's why I was talking about the EC3 and the Benefect, because they're really concentrating those oils and you're getting the right percentage. There's a percentage of bleach that is mold killing as well.
But for mold prevention, so once you're past the cleanup, you're drying out your house, you've got the dehumidifiers and the air filtration going, you can use, I have a formula you can get from my website. It's just a handout. You just go to the bottom handouts and you can get it there, that uses witch hazel, which has the very drying effect. It's almost like putting alcohol on something, you know how it has that drying effect. You can use witch hazel with vinegar and essential oils as a prevention. You can use that to clean. I just get one of those microfiber pads or gloves and just spray it on there. And then you can do your dusting and cleaning and particulate management with that as a prevention once you're dried out. Yeah.
Nirala Jacobi:
Okay. And that's at drcrista.com, I think?
Jill Crista:
Mm-hmm (affirmative). In the footer. You got it. Yeah.
Nirala Jacobi:
Okay. Great. Wonderful. Thank you so much.
Jill Crista:
And I think that people have to be very... I understand, save your home. I've been there, so I get this. You really have to... If your house is very affected up to the ceiling and it's loaded with mold, you need to be very clear about the potential long term health consequences of reentering that place without protection. You need to make sure that that risk is there and there are things like MS, like dementia, they can cause seizures. It's carcinogenic. So I'm not trying to freak everybody out, but also want them to understand you're weighing saving a material thing with potentially risking your health. So don't have your most sensitive person in the family who can't handle fragrances, be going in to doing the cleanup. You need people that have a good detoxification. And there are things that you can take ahead of time that have been shown to protect yourselves and your genes from mold and mycotoxins.
So things like fish oil. So DHA, has been very well studied to be a good mold protector because it's a clean fat and these toxins are fat soluble. So it keeps good fats flooding into your system and then you don't have as many of the bad fats clogging it up and bioaccumulating in your system. We've also seen that quercetin, if you take it ahead of time, can be very protective to the cells. The cells actually block the mycotoxins from entering inside the cell. So things like quercetin can be done before, during, and then after to protect you from the mycotoxins that you're going to be exposed to. It also helps reduce your allergic reaction to the spores, so you don't have to have so much inflammation.
And then milk thistle is another one that can be done pre, and I know this because once I've read the studies on this, I now totally harp on the remediators in my area. Are you taking your quercetin? Are you taking your milk thistle? Are you taking your DHA? Because I know that they're being exposed. That N100 masks still does not protect you from mycotoxins. Mycotoxins get through those. It's protecting you from spores and fragments, but you're still getting that mycotoxin exposure. So using things like quercetin and like milk thistle will help to protect you from that exposure, that known exposure that you're going to be getting.
Nirala Jacobi:
Okay. Those are 3[crosstalk 00:24:21]-
Jill Crista:
This is serious stuff, man.
Nirala Jacobi:
Yeah. Yeah, no. It is. And people are, I think, in overwhelm. Very, very clearly traumatized and then overwhelmed and so I don't know how much they can take it in at this point, but I think this is really important for also the future. I think those three products that great. Can we get back to, because I interrupted you during the essential oil question, back to like the bleach and the actual cleanup, and then we can kind of talk about protection. Maybe some other suggestions are great, but like what can people use to actually kill the mold? Because there's a shortage on remediators and all of that and testing.
Jill Crista:
So anything that is mold affected needs to be cut out and removed, and that is anything. And then when you're left with the things that are opened. So your walls are opened, there's a tendency to want to just bleach the crap out of it and kill that mold. Well, what you're doing is you're watering it. Bleach adds water, vinegar adds water, all of those things add water. So the best thing you can do is allow everything to dry and sweep. Do the particulate with dry dirt rather than trying to... Or you can use, if it's wet mud obviously you can wipe that down, but don't add humidity or water or moisture to it. You're better off sweeping dried mud than you are trying to wipe it down with more water.
Nirala Jacobi:
Because people have been pressure washing just trying to get... Because the mud is just horrific. And there's sewer contaminates, so I understand. I would also use bleach to be honest, regardless of what I'm hearing. I know what you're saying. In my mind, I understand.
Jill Crista:
I know.
Nirala Jacobi:
But when you see the mud, I was helping a friend clean out the mud and I've been to other houses and help them to clean up and it's just the smell, the thickness of the mud there's just no way that you just... Your mind can't let it dry. It's just not an option.
Jill Crista:
It's not going to happen. Yeah. Yeah, I get it. I get it. And also the mud can hold water. So it depends on how thick the mud we're talking. But yeah. And the sewer contamination thing, that's an endotoxin thing as well. So you're better off once you can get back in, opening everything up and letting it dry, closing it up and running dehumidifiers and don't expose yourself to that because those sewer gases can affect your gut microbiome as well. So yeah. And bleach is a toxin as well. But yeah, I know it's the... And I'm not seeing it, I'm not there, but I have been in flood conditions and the mud it is a force unto itself, isn't it?
Nirala Jacobi:
Yeah. Yeah. And it's just relentless. It just gets into everything. And when we were first starting to clean up our little town, we were using bleach as the final... Like getting the mud out and then as a final. After the pressure washing and everything else, just putting a layer of bleach water and stuff. And that felt good. It felt like, all right, we're doing something to kill something. Because I just did not trust the vinegar and the clo... I just don't trust that and I'm glad you're confirming that with me now, that it just isn't enough. And there are other mold products out there. There's different types of antifungal but they're all sort of liquid. So it's an interesting dilemma, that's for sure. Like what actually works.
Jill Crista:
Yes, yes. And Benefect is like a thyme based or essential oil based thing that's a product EC3. Those are going to be higher concentration of essential oil to liquid. Then you know, this idea of like how much essential oil do you need per amount of vinegar and what's effective. If it's not stinging your eyes a little bit, it's not strong enough. But yeah, you're adding water to the situation and that's always risky.
Nirala Jacobi:
What about vinegar[crosstalk 00:28:43]-
Jill Crista:
There's something on the market[inaudible 00:28:44]commercial-
Nirala Jacobi:
Oh, yeah.
Jill Crista:
Yeah. There's a commercial product called MSQ that a lot of the commercial remediators try to use as a... And that's what they used in my house. And it's called Mold Stain Remover or MSR or something like that. It's just a stain remover. It's an oxidizer, it's not a mold killer.
Nirala Jacobi:
Oh dear.
Jill Crista:
So you're better off using something like EC3 or Benefect, if you are going to be using something liquid.
Nirala Jacobi:
So EC3 and Benefect are basically essential oil based products.
Jill Crista:
Mm-hmm (affirmative).
Nirala Jacobi:
Yeah. Okay. But[crosstalk 00:29:17]you can use your own. Other than clove, what are some of the best essential oils to use, let's say you're doing the cotton ball volatilization of the oil?
Jill Crista:
Yeah. So we've got Tea Tree works very well. Thyme works very, very well. Oregano, you're going to smell like a pizza parlor. Eucalyptus is a little weaker than the thyme. And then anything that's in the Cedar pine family would be very good. So Thujah pine, anything in that evergreen because that's how they protect themselves. They make that essential oil to keep from growing fungus because they never drop their leaves. So that's a wonderful plant ally that you can use.
Nirala Jacobi:
Okay. That's great.
Jill Crista:
Yeah.