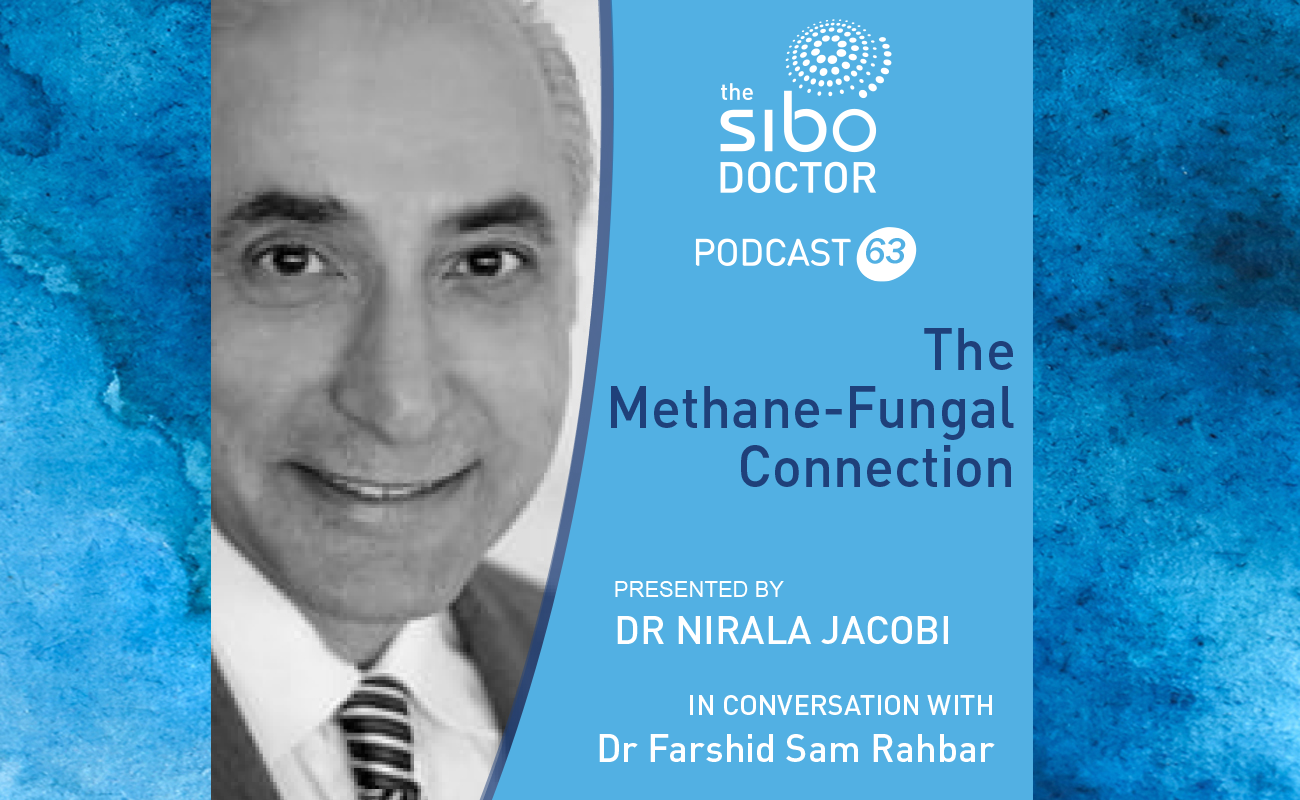 The Methane-Fungal Connection with Dr Farshid Sam Rahbar - Part 2
Welcome back to part two of the SIBO Doctor Podcast, and let's jump right back into it.
With me today is a returning guest, it's Dr. Farshid Sam Rahbar, who is a holistic and integrative gastroenterologist and the medical director at the LA Integrative Gastroenterology. In 2013, he delved into the relationship between tick-borne Lyme disease, with a special interest in gastrointestinal manifestations. Since this time he has witnessed clinical patterns involving the role of infections, acute and chronic, in causing ongoing GI related conditions and symptoms.  Dr. Rahbar's special interest areas also includes dysbiosis, SIBO and leaky gut.
Download Dr Rahbar's SIBOCon 2019 Presentation
Transcript
Dr Nirala Jacobi
Welcome back to part two of the SIBO Doctor Podcast, and let's jump right back into it.
Dr Nirala Jacobi
So what you're saying is that when you see a fungus present, assume some level of immune suppression, at least locally, like mucosally, is that what you're saying?
Dr. Rahbar:
It could be local, but it could also be systemic. And we're not in a position to say. We check a few of the immune markers, if necessary. We do the immunoglobulin levels, IgG subclasses. We do CD57. We do the CBC counts. We look at the natural cellular activity. And one or the other may show, but I'm not really convinced that there's not more into it. And I'm not an immunologist, but I think eventually if somebody studies these, they may be able to come with analysis and check and see where the dysregulation might be present. I don't think this is just local, I think it's beyond that, because patients like this may also have more sinus infections, recurrent urinary tract infections, they get ill frequently. There's more into it, if you will.
Dr Nirala Jacobi
So just as, for people listening, because it's mostly, well, there's a lot of patients always listening to the podcast, and I'm hoping that they're still with us. So I'm just going to summarize a little bit. So what we're discussing here is that the presence of methane, especially higher levels of methane, are they more clinically related? Or do we see more elevation of fungal overgrowth, or the presence of fungal overgrowth in these patients? And both Dr. Rahbar and I seem to see a lot of fungal overgrowth, whether that's with or without methanogens. But with methanogens present, I do think I am seeing more positive yeast markers, especially on the organic acid test, which is pretty much the only test I do, and the mycotoxin profile.
Dr Nirala Jacobi
Although the mycotoxins, let's talk about that for a second, because my understanding is mycophenolic acid and ochratoxin A can be released by, or secreted by, Aspergillus, by Penicillium, but also Candida also releases some levels of mycophenolic acid. I don't know how much. So mycophenolic acid is very immunosuppressive, as you've mentioned. So yeah, not sure where I'm going with that question. I'm just summarizing it.
Dr. Rahbar:
No, that was a good summary.
Dr Nirala Jacobi
Because as a clinician, for me, when it comes to Candida, it's probably the most tenacious organism that I treat. Probably more tenacious than methanogens. And I haven't thought about first using antifungals before I dive into treating with methanogens, which is really a great thought. And I'm going to give that more thought and probably try that out.
Dr Nirala Jacobi
Getting back to your thoughts on methane and levels of methane that you find. With my methane presentation that I've done, I've actually seen some benefits with methanogens being on board in terms of metabolic conversion of carbohydrates to energy in athletes, having less trimethylamine oxidase present in people that have higher methane levels. So there appears to be, also, some benefit, whether that's good to talk about here or not.
Dr Nirala Jacobi
But I'm always careful to not vilify one organism, because on some level, I think that methanogens evolved with us and were actually very beneficial for our evolution because they helped us extract more calories from food by slowing digestion. And a large percentage of the population has presence of methane without any apparent clinical problem or relevance.
Dr Nirala Jacobi
So, this is always the thing that I struggled with when I researched methane and methanogenesis. But Candida, at its basic level, is also not really a pathogen. It's a commensal organism. So maybe we are dealing with commensals that are forced into pathogenicity or being more pathologically relevant under certain circumstances. So these are the questions that conversations like this raise for me.
Dr. Rahbar:
Yeah, and I totally relate to that. I just also wanted to mention that we're seeing less and less Candida Albicans. The other subspecies of Candida are showing more and more, at least in the samples that we see. And I think if you start to do the organic acids and maybe the stool test... I actually do less organic acids. I do more stool tests, because as a GI, I need that information. But it's ideal to have all of the those, and then you can say, "Okay, one or the other can give us the guidance."
Dr. Rahbar:
And again, I do use some fungal antibodies, does appeal to me. This is something we're now considering more, because sometimes I need some evidence that this idea is correct. But there are other fungis, as you mentioned, that they're not Candida Albicans. And Candida Albicans could be part of our normal microbiome.
Dr. Rahbar:
And my recollection is that, fungi are about 0.5%. So maybe that 0.5% goes to 1% or 2%. And when that proportion increases, maybe produces clinical picture. And it could be that maybe the same bugs are there, just a proportion of them are increased.
Dr. Rahbar:
Another thing which I kind of mentioned in my blog last year was, and I may be wrong about this, but we have several patients where we took them off egg yolks... I apologize. This is a spam caller. Okay. We saw that some of the high-methane patients, they were eating a lot of egg yolks. And when we asked them to stop that, spontaneously the numbers came down. And one of them was not responding to the treatment, eventually by stopping the egg yolks and reducing the overall red meat, we were able to normalize the methane level.
Dr. Rahbar:
Now, this is fascinating because of why. And I presented some of the literature on this one, that the choline and carnitine through that enzyme, trimethylamine oxide in the liver, they produce TMAO. And this molecule is basically a carbon with three, its prime material is basically one carbon and some elements of CH3 attached to it. And it's very easy for that to become the substrate for the methane.
Dr. Rahbar:
And then, I gave this as a quiz to my son who was doing chemistry. I said, "Look, when you change this molecule from this to CH4, how many of this molecule is going to give you how many molecules of the CH4, which is the methane?" And I am sure that the nature has some enzymatic pathways. We know that, at least in cattle, that such enzymatic pathways are present, and maybe that we do the same thing.
Dr Nirala Jacobi
Yeah. That's this article I was referring to, is that people that had higher methane had lower TMAO or trimethylamine oxidase, I think. So it's definitely already in research that we see a benefit of... Well, I mean, if you think that having methanogens on board is a benefit in that regard, that it would lower the risk of atherogenesis because of a reduction of that enzyme. But that's fascinating that you just reduced eggs and meat and saw a drop in methane. So interesting. Very interesting. Yeah.
Dr. Rahbar:
Yeah. The case is actually among the presentation we did last year. And the numbers, I think, came down by about 40, 50% without any treatment.
Dr Nirala Jacobi
That's significant.
Dr. Rahbar:
Okay. So when we see a high methane, it's usually one of my standard questions to ask, "Do you eat a lot of red meat, or particularly, egg yolks, which is high in choline, and choline would become a substrate when delivered into the liver as the proper machinery, it can turn that into trimethylamine oxide through that enzymatic pathway again.
Dr Nirala Jacobi
You and I, we always like to go down rabbit holes, don't we? We're just like free thinkers, free association.
Dr. Rahbar:
We may get stuck today.
Dr Nirala Jacobi
But I kind of wanted to go back to what you talked about, this bile gastritis and bile reflux, because you mentioned several years ago at one of the conference, and this is always so great to talk to actually a gastroenterologist who does the procedures. We don't have that luxury of actually visualizing anything as naturopathic physicians. We refer to you for that. So can you talk to us about the connection between high methane and bile reflux?
Dr. Rahbar:
Well, it's the connection between high methane, high hydrogen, fungi, parasites, anything that is primarily in the proximal gut. And this is my observation. If the proximate small bowel that is contaminated, it appears that the body has a language of its own and says, "Look, I'm not going to put good food down in the small intestine. That area is not clean." It almost has an internal intelligence. And this is what I call the downstream problem.
Dr. Rahbar:
So if you look at classical descriptions of bile gastritis in the textbook, there's about two to three paragraphs written in about 2000 pages. And some of the treatments I see are still in classical textbooks says diversion gastrostomy, and trying to bring a small bowel [inaudible 00:11:38] to bypass that. But there's not a clear answer why the bile is backing up into the stomach. It's supposed to go down. Bile comes out of the liver. There should not be any bile in the stomach. I never thought this was normal.
Dr. Rahbar:
The other part which I found is, and this is very, very subjective, but if you do an endoscopy, many times with the presence of bile gastritis, the pyloric channel is open. This is what I call the O-site. It's like, open. I said, "Hey, come on over. I'm just opening the door for you to back up in the stomach." And obviously the presence of the bile in the stomach irritates the stomach, and it can cause foveolar hyperplasia, bile-induced gastritis. And the clinical presentation in the patient is generally gastritis-type symptoms. There'll be gastric pain that is unexplained. And I think a lot of these dyspeptic scenarios that we have heard, the non-ulcer dyspepsia, that they're not necessarily related to Helicobacter pylori. It's probably bile-induced gastritis.
Dr. Rahbar:
So we started to investigate our patient population that they came to me, and generally we thought that they were chronically ill and immune suppressed, which is a scenario and a setup for gut dysbiosis. And when they came with epigastric pains, and they had seen other physicians. There were no answers. And I said, "Look, you probably have bile gastritis." Now we can demonstrate that sometimes by doing a hydrogen pH testing, because you can see fluctuations of the stomach acid, and this is what I call a sawtooth appearance. Or, if you do an endoscopy before you suction anything, if you look, there may be evidence of bile in heavy amounts, in small amounts. Could be bile the same. This could be a place. But again, it's a tell tale that there is something going on with this backlash, and a downstream problem.
Dr. Rahbar:
So we have numerous cases like this. I wish we could publish this. And I may be getting a little too old to do this because this last article we have submitted for publication, it has almost taken two years of intense work and a lot of money to do it at the private practice setting. It has been quite challenging, but we think this is real. And I think that bile gastritis is related to proximal gut dysbiosis, where the very beginning of the small bowel is contaminated.
Dr. Rahbar:
The first patient we did that, that patient is going to listen to this talk. She would know who she is because she asked me, "Am I your first patient?" I said, "Yes, you are." "Okay." And this is someone who came with three years of epigastric pain. And there was evidence of mild SIBO, it was not necessarily methane. It was just a bunch of moderated hydrogen-producing scenario. A significant amount of bile in this. And when we aspirated the juice and we looked at the juice by PCR, there was whipworm showing up by PCR.
Dr. Rahbar:
So I treated that patient sequentially with multiple counter-parasite protocols. And over about three months, she was almost pain free. She returned after a year. My patient said, "I'm 95% better. I'm eating everything I want." And she asked me to repeat the endoscopy. We did, there was no more whipworm, and the juice was clear in the stomach. So I have documentation this one case. And if I had some fellows in my office, I'd probably have them write the case up to have a case scenario of that.
Dr Nirala Jacobi
I did this really interesting podcast with Dr. Jason Hawrelak about parasites, and we both agreed that we barely ever see them on the stool. Meaning that, okay, Blastocystis and Dientamoeba were sort of taken off the table in terms of parasites at this point. There's only a few instances where we see them to be a problem. So eliminating those two protozoans, we barely see any parasites on a stool test. And I wonder if that patient that you just described with a whipworm, did you find whipworm on a stool? Or did you only find it by endoscopy? And could we assume that there is potentially a parasite in the upper gut that we can't really diagnose with the technology or the diagnostics that we have available in clinic?
Dr. Rahbar:
I think it's quite common. We have done about 100 cases so far with this type of scenario, and I have seen [crosstalk 00:16:46].
Dr Nirala Jacobi
You found 100 cases of whipworm with an endoscopy?
Dr. Rahbar:
No, no. We have done 100 cases where we did an analysis of the duodenal aspirate, the duodenal juice. It's a little bit of labor-intensive work. You have to almost know what to do. But we have obtained it in the duodenal juice. And about a third of those patient, they had evidence of parasite, occasional Giardia in a small amount. It shows as, like, a low signal coming on their PCR.
Dr. Rahbar:
But it's not just the whipworm. We have had pinworm. We have had other types of parasites. I think we had one case of Necator, and they come as showing up the whole form. But you see, these are the type of things you don't see in a stool sample. It doesn't matter how you do it. It's just, you can't... I don't think they disintegrate before you get it. And paracytology of the upper part is just, it's not done.
Dr. Rahbar:
And I know some practitioners, they just treat what they call, like a parasite protocol. I mean, they do treat empirically-based an assumption that is there, and not all of these patients have abdominal pain, or they have diarrhea. Indeed, one of the scenarios that it is only described in classical books. You know what it is? It's burping, is excessive eructation-
Dr Nirala Jacobi
Burping?
Dr. Rahbar:
... yes. This is, to me, is another symptom of downstream problems. And we have had numerous cases of this, that was often based on this premise that this is not a psychological problem. I don't need a psychiatrist. And there is probably alteration of gastric distensibility, gastric extension, and the gastric accommodation, which has changed. But it is changed as a consequence of physiologic alterations in the small bowel. So the focus should be in the downstream to be able to help the patients with generally a difficult problem to correct. And it may require multiple hits of different... And sometimes you just have to do empirical treatments based on what you're thinking.
Dr. Rahbar:
We had one young man who was not from here. He was from Asia. He did not speak English. He came with somebody who spoke English. We kept him in US for four months. But his eructation was so loud, he actually had to make a recording of it for me to see how vigorously it was coming out and making a loud sound. So obviously for him to come and seek medical advice, he was not feeling well.
Dr. Rahbar:
I did ask him if he had eaten some raw meats in Asia, so I had to argue whether he might have had some [inaudible 00:20:00] or other things. And we could not demonstrate all of those things. But interestingly, he did have some fungal elements in the stool, but I treated him for that. He also had some SIBO. But I also added parasite protocol to that. And after about three, three and a half months, he did write me an email and said, "For the last 17 days, I have not had any burping. Can I go home now?" And the answer was that, "Yes, you can go home now."
Dr Nirala Jacobi
Yeah. Burping and even rumination syndrome. I've had a couple of cases with rumination syndrome where-
Dr. Rahbar:
Same thing.
Dr Nirala Jacobi
... yeah. Where people are sort of regurgitating their food. And, yeah. So I always thought this was directly related to high methane because... I haven't seen the research that demonstrates this retrograde motility that we talk about with methane. I've heard several experts talk about this retrograde motility. Do you think this is why I definitely see more burping with people with high methane than, let's say, high hydrogen? Do you see that, as well?
Dr. Rahbar:
I don't categorize it based on methane alone, but obviously methane would be one factor. But if there's high methane, then I suspect a presence of fungal elements. But occasionally, people have other things. And I cannot ignore the issue of parasites. I mean, these-
Dr Nirala Jacobi
Interesting. So interesting.
Dr. Rahbar:
... microbial agents, they could coexist. In the patient that I was just telling you, the earlier one that had the bile gastritis, she did return after a year. And we did the repeat breath test, which was abnormal. She had no symptoms. She said, "I'm still 95% better." So I think it was the parasites that was the players. You follow what I'm saying?
Dr Nirala Jacobi
Yeah.
Dr. Rahbar:
Because I told them. I said, "SIBO is not very severe, but what am I going to treat? Treat the test or treat the patient?"
Dr Nirala Jacobi
Exactly. Yeah. That happens a lot of times. Yeah.
Dr. Rahbar:
And so, I decided, I said, "Look, just do the right thing. Eat slowly, don't eat big before you go to bed, and don't eat something with the high lectin foods and stuff. And I think you can keep it under control. But most importantly, don't eat raw food or too raw meat, because you're going to recontaminate again yourself.
Dr Nirala Jacobi
This just reminds me, probably 30... now this dates me... but about 30 years ago when I went through naturopathic medical school, and at the time we were also taught that parasites often or can hide out in the gallbladder, right? So this is another little pocket where parasites can actually hide out. And at the time, we were taught about doing the gallbladder flush, which is basically a particular diet. And then, you basically drink a cup of olive oil and you have this massive release of bile. And I don't do it that often, because people are too ill to do this at the time, but I've had a few people that reported that that was like their turning point. They, after that, felt amazing digestively.
Dr Nirala Jacobi
So this is something I've always had in the back of my mind as a potential, and perhaps doing that and then doing a stool test just to see if you would capture some sort parasite or so. That's something. But I just thought it's an interesting thought that parasites can live in the upper gut without any evidence in the lower gut, which really renders all these stool tests somewhat useless. Because, like I said before, I barely see parasites on a stool test. Very rarely do I see something.
Dr. Rahbar:
I totally agree. That's my experience, also. But that's why I said some of these non-ulcer dyspepsia patients, which has been described as a functional bowel disorder, and they have some criteria, I mean, I personally can go with that criteria. I mean, I think there's a huge structure problem. It just hasn't been adequately defined. It probably needs some of the newer technology. I know Dr. Pimentel is publishing some of his data on the microbiome of the small intestine, and we'll see what we learn from that.
Dr. Rahbar:
But the combination of high methane or fungi or hydrogen-producing bacteria, or parasites, any of these things that contaminates the small bowel, it may give you these type of upper GI symptoms. And the excessive burping or eructation, epigastric pain, and just burning sensation in your upper abdomen in a chronically ill patient, most likely this is by the gastritis and is related to the proximal gut.
Dr. Rahbar:
And some of the problem may come from the gallbladder, as you pointed out. And I see the gallbladder as a foresight that can become inflamed, and it becomes part of the systemic inflammation. And this was actually published in a journal of hepatology, a classical journal. When you see gallbladder inflammation, you may have to think about this as being part of the systemic inflammation. And the question is that, well, if the gallbladder became contaminated, and is partially inflamed, and may have a larger stone, is it possible every time that if you push the bile out it contaminates the small intestine?
Dr. Rahbar:
And I found one reference, I think it was one of the references by Dr. Mullins in his article, that people who have had cholecystectomy, means that the gallbladder was removed, they had apparently less chance of getting SIBO with this [inaudible 00:26:25]. The gall bladder comes out, you have less chance of SIBO, so maybe I removed what was constantly contaminating it. And is it possible the recurrent SIBO it could be a manifestation of a gallbladder problem? Now, it could be bacteria. It could be fungi. It could be parasites.
Dr. Rahbar:
And just for your information, we use the laboratory here in US called Aperiomics. And we had one or two patients where we sent the gall bladder tissue after cholecystectomy in patients with Lyme disease to see if they can see some elements in there. And in one of them, actually, it was very interesting. There was fungis showing up in the gallbladder.
Dr Nirala Jacobi
Wow. Yeah.
Dr. Rahbar:
Okay. Was that contributed to the clinical picture with you? Because this is the type of guy with recurrent pain and had no stone, and just really bad malfunctioning gallbladder. So you have to use clinical judgment because no test was showing anything positive. But he felt good after the gallbladder was out.
Dr Nirala Jacobi
Talking to you always kind of raises a whole lot more questions in my mind. It's always so stimulating. That's awesome. Right. So being mindful of the time, we have a couple more minutes left to kind of wrap things up. So I wanted to just bring people back into this conversation of methane, the presence, especially, of high methane should raise your suspicion, I think we can agree? Right, Sam?
Dr. Rahbar:
Yes.
Dr Nirala Jacobi
About that it should raise your suspicion that there is a fungal presence possible, right?
Dr. Rahbar:
Absolutely. And just for the audience information, the presentation that I gave last year at the SIBO conference, I was able to work something out with your colleagues and with the coordinators of the conference, and I got the video back. It's a one-hour presentation. And we put it on our website at no charge.
Dr Nirala Jacobi
Oh, great. Oh, people have access to that?
Dr. Rahbar:
Yeah, there's no charge, because otherwise they had to pay some fee to be able to watch it, but it is free. And I believe that it's quite unique, those discussions, because I haven't seen it in years of practice. We had to put this, each like brainstorming, and we put a lot of effort to put that presentation together. And I do believe it would be worth taking a look at it.
Dr Nirala Jacobi
That's very generous that you're offering it to the thousands of people listening. We will have the link to that, to Dr. Rahbar's website in the show notes. And you'll just have to send me that link so that I can put it.
Dr. Rahbar:
I will send you the link.
Dr Nirala Jacobi
So where can people find you? Where are you practicing? I know all of the links will be, again, in the show notes, as well. Are you with a group of gastroenterologists?
Dr. Rahbar:
My practice is basically me, but there's another GI doctor who's a friend and a colleague of mine, and he's in the office. So generally two of us or one of us is always in the office. I practice right here in LA, Los Angeles area. And it should be easy to find us.
Dr Nirala Jacobi
Okay. Well, we will definitely put that link in there.
Dr. Rahbar:
Thank you.
Dr Nirala Jacobi
I'm amazed that you still have space in your schedule. That's crazy. Anyways, we'll put that in the notes. So look, it's been so fascinating. And I will definitely keep my eye out for, well, not just my eye. With some of these thoughts that you have raised, I will consider this a lot more closely, especially with some of the upper gut symptoms that you talked about. So that kind of puts my thinking hat on a little bit more. Again, for those people with really chronic dyspepsia, that even just treating SIBO isn't enough. So thank you for all of your input-
Dr. Rahbar:
My pleasure.
Dr Nirala Jacobi
... and for your free thinking, free sort of putting things together. It's been a real pleasure, and I really appreciate the time Sam, and hopefully-
Dr. Rahbar:
Thank you so much. I appreciate the invitation.
Dr Nirala Jacobi
... we will meet again, my friend, at one of these conferences, once all the craziness lifts, and we can actually have physical conferences again. It will be great to see you.
Dr. Rahbar:
Absolutely. Thank you again.
Speaker 3:
Thank you for listening to the SIBO Doctor Podcast. We hope you find the information in this episode useful in the treatment of your SIBO patients. Thanks to our sponsors, sibotest.com, a breath-testing service with easy online ordering. And QuinTron, the maker of outstanding breath-testing equipment. Thanks again for listening.