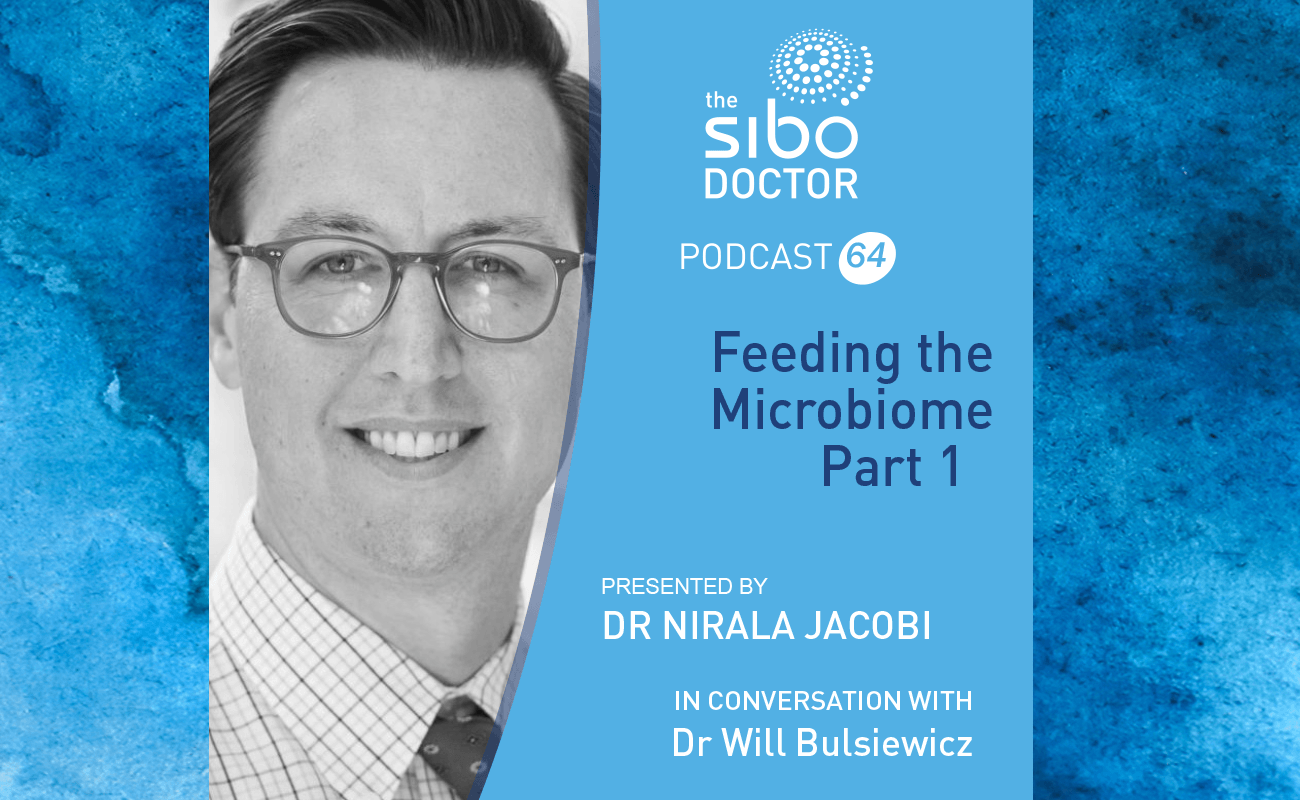 Feeding the Microbiome with Dr. Will Bulsiewicz - Part 1
Dr. Will Bulsiewicz is a New York Times bestselling author of the book Fiber Fueled. He's also an award winning gastroenterologist, gut health expert, and the author of more than 20 articles in top American gastroenterology journals.
Transcript
Dr. Nirala Jacobi:
Welcome to another episode of the SIBO Doctor Podcast. And with me today is Dr. Will Bulsiewicz, who is a New York Times bestselling author of the book Fiber Fueled. He's also an award winning gastroenterologist, gut health expert, and the author of more than 20 articles in top American gastroenterology journals. He's a graduate of Georgetown University School of Medicine and was Chief Medical Resident at Northwestern Memorial Hospital and Chief Gastroenterology Fellow at the University of North Carolina Hospitals. He lives in Charleston, South Carolina, with his wife and two children. So welcome, welcome Dr. B.
Dr. Bulsiewicz:
Thank you. It's such a pleasure to be here with you today. I'm excited to just fully nerd out and get into the gut health.
Dr. Nirala Jacobi:
Yeah, we're definitely going to nerd out. We have a lot of practitioners and a lot of patients listening in, and I think one of the first things that people are going to be curious about is this path that you've taken as a very established and accomplished gastroenterologist, how you got into writing a book about fiber and what this journey was like for you.
Dr. Bulsiewicz:
This was not the plan. This was sort of anything but the plan, but I got dragged into it. And the way that that happened for me is that I had to become the person who was personally sick. I had to become the person who needed to heal their gut, to reverse their own medical issues. And picture this, I was 30 years old and I was this well-regarded doctor within my training program at one of the top residencies in the United States. And yet I couldn't fix my own problems. I had gained 50 pounds, 20 kilos, relative to what I used to weigh in high school. I had anxiety issues. I had high blood pressure. I had low self-esteem. I had tons of fatigue, low energy. I basically was fueled by caffeine 24 hours a day.
Dr. Bulsiewicz:
And although I was doing well from a professional perspective, on the inside, I was miserable. I felt like I was 60 years old or older than that. And I needed something to give, I needed to fix these issues and get out of this problem. But my conventional medical training hadn't really provided me a path. I didn't really understand how to do it. So I tried to exercise my way out of it. And like most doctors, I'm a very type A, so I was very aggressive with my exercise, working out six days a week, working out probably about nine hours total per week. And I could build muscle, I could build endurance, but I couldn't lose the gut.
Dr. Bulsiewicz:
And things changed for me when I met the person who actually is my wife, and we were just starting to date. We'd go out to dinner, we'd be at this nice restaurant, and I noticed that she would order an entire plate full of plants. And she wasn't evangelical about it at all. This was just an observation that I had, is wow, I've never been around someone who eats this way before. I was raised on the standard American diet, hot dogs, processed meats. Those were my favorite foods. And I saw that she ate this way and it opened my mind to the possibility, maybe it's my diet. Because what I noticed is that she could eat to the point of satisfaction, that she was full, that she loved her food, really enjoyed it, got pleasure from it. And yet she had complete control over her health, complete control over her weight and it was effortless for her.
Dr. Bulsiewicz:
And so for me, it opened my mind to the possibility maybe this diet that I was raised on that I considered to be normal, that's normal in our family, maybe this is failing me. Maybe this is hurting me. Maybe this is the cause of my problems. And so I started to make changes and I started to drift towards a plant based diet. It wasn't anything that occurred overnight. But as this started to happen, the weight was just melting off my body. And the blood pressure went away. My anxiety lifted. My self esteem surged back, and I started feeling young and vibrant and alive again. And it was so powerful, the change and the transformation for me that I, being a medical doctor, a person who really has, I strongly value science, I turned to the medical literature, curious, I wonder if there's any studies to support what's happening with my body. Because I haven't heard anything about this idea of a plant based diet.
Dr. Bulsiewicz:
And when I turned to the medical literature, I was shocked that I found literally thousands of studies, including very high quality studies that showed me this path to optimal health through plants. So I started to bring this into my gastroenterology practice and this coincides with around the time that we started to see the true explosion of science surrounding the microbiome. And I started to bring these ideas into my medical practice and I'm a gastroenterologist, so for a living, I take care of people with digestive problems and I was seeing miraculous recoveries. People with irritable bowel syndrome, getting rid of it entirely. People with ulcerative colitis, going so deep into remission that they came off of their medicine. And so it was something that was so profound and life changing that I felt this compulsion to share the story.
Dr. Bulsiewicz:
And really, I wasn't planning to write a book. My plan was to just start a social media account, starting an Instagram account and put the word out. And if I ended up with 250 followers, that would have been a lot from my perspective. I really wasn't expecting anyone to necessarily be interested in me. And one thing led to another. And in 2018, I did a podcast with my friend Simon Hill, who is from Bondi, And that podcast went viral and it's been downloaded, I mean, I think now probably 300,000 times. And when that happened, it was just, I sat there and I was like, wow, people are freaking out. And it really feels like there's something to this. And I felt compelled at that time.
Dr. Bulsiewicz:
I hadn't really thought of writing a book, but at that point I was like there's something to this. And I think the best way for me to put this out there is actually to structure it and organize it into a manuscript that is comprehensive and that will allow me to be thoughtful about what I say and I'm not just sort of off the cuff, having a conversation on a podcast. So that consummated in my book, Fiber Fueled, which finally came out this May, in the middle of a pandemic and was a New York Times, USA Today and Publisher's Weekly bestseller and continues to do incredibly well in terms of sales. My publisher is very happy right now.
Dr. Nirala Jacobi:
Well, I think one of the reasons why people are so fascinated with you really is because there are many people that are listening to my podcast and other podcasts and are looking for answers and they're not getting it from conventional medicine. Naturopathic doctors and functional medical practitioners, we've been preaching the science of gut health for a very long time. But when somebody, a gastroenterologist, actually starts to really also promote a microbiome, a healthy diet, and also walking the talk or walking the walk, talking the talk, that is what I think is really appealing. Because a lot of people, a lot of my patients have had experiences where their concerns were really dismissed by a gastroenterologist or they're on this merry-go-round of medications and just symptom control for their various digestive disorders.
Dr. Nirala Jacobi:
And they're really disheartened by that. And when I read your book, and it's very easy to read for anyone listening, interested in microbiome statistics, and also just how to actually regrow your own microbiome. We've been talking about this over and over again on this podcast. But you make it really easy. And one of the things I love about your book is half of the book is recipes and your protocol on how to really regrow your microbiome because there's been such an assault on it.
Dr. Nirala Jacobi:
And you leave sort of no stone unturned, you touch on topics like pesticides and antibiotic use in medicine and in agriculture. It's really kind of like a book that we've heard about or heard about these topics and issues for a long time. But I think it means a lot when somebody who is at the top of his field actually writes something like that. So I do want to thank you for your contribution. And I think a lot of people will find it really helpful to implement also. And it really promotes a plant based diet because you, can you talk a bit more about that, this aspect of how you then moved from your own diet to the plant based diet?
Dr. Bulsiewicz:
So it started in that place where I observed the person who, her name is Valerie. Valerie is my wife and we were just starting to date. And it starts from that place where it's like, I literally, at that point in my life, I didn't have a single person that I knew that was vegetarian, let alone vegan. And you start there and you see, for me, it just opened my mind. And I started to make small changes and these small changes, for example, instead of getting fast food, going and getting a burger and French fries, instead I would go home and I would make this huge smoothie with greens and berries and bananas and flax and chia and things like that. And I felt so much better instantly. That was part of what compelled me to continue down this path, is I stopped having that post-meal hangover.
Dr. Bulsiewicz:
But what ultimately sold me, at the end of the day is this. And I think this goes back to some of the points that you were making of, there's not many gastroenterologists that are talking about this right now. Well, I think that's too bad. I think they should be. And I will tell you that one thing that I'm excited about is I've had many gastroenterologists who have read my book, not to mention naturopaths and chiropractors. And there's an entire world of healthcare and there's a lot of different perspectives, but we all have a role in trying to support and care for our patients and trying to make them better. And so people from many different perspectives have reached out to me about my book. And at the end of the day, there's one North star from my perspective, which is that the science has to lead the charge.
Dr. Bulsiewicz:
That's the way that I feel about it. If the science is there, then we should follow the science because that will be our compass that will guide us closer to the truth, closer to human health. And if the science is not there, then that to me is the problem with many of the fad diets, is that they're not grounded in the science from the beginning. And if they're not grounded in the science, then effectively, you're just aimlessly walking and not necessarily getting any closer to human health. So for me, the science had to be there and there is no barrier to my care from my perspective. I have a background in science, I got a master's degree of clinical investigation. I did an epidemiology fellowship. And so there is no barrier. It doesn't matter what my training was. It doesn't matter what conventional Western healthcare is, from my perspective. At the end of the day, if you present a research study to me and it shows that this is the way to take care of our patients, then I'm on board, end of story.
Dr. Bulsiewicz:
And that's what I found is that when my mind was opened up to the possibility that nutrition was the solution, then as I started explore and devour the science, I discovered this path and it was more than just the studies, for example, cohort studies, or there are some randomized control studies. It was more than just those types of studies looking at the benefits of a plant based diet. This was me zooming in on this ecosystem, our microbiome, zooming in on the ecosystem and seeing this very special connection between the fiber in our plant food and the health of our microbiota, and seeing the way that that manipulates. And as I learned more about this, it really felt to me, like I had discovered the fundamental problem in Western society from a health perspective. I don't want to be so hyperbolic as to say that this is going to fix all of our problems. I'm not claiming that to be the truth. But I kind of felt like when you look at it, for example, in the United States, the average American gets 15 to 17 grams of fiber per day.
Dr. Bulsiewicz:
Our ancestors were consuming a hundred grams of fiber per day. And the average American eat, just 10% of their calories come from real fruits, vegetables, whole grains seeds, nuts. 97% are not hitting the mark in terms of the minimal expectations for fiber. It's actually quite embarrassing to me when you look at fiber studies in the United States. I hate to say this, but the same is also true in Australia. It's embarrassing to me when I see fiber studies and the way that they set them up, which is they will take a group of people and they'll say, "Let's compare the high fiber consumers to the low fiber consumers."
Dr. Bulsiewicz:
And what you'll see in this study is that the low fiber consumers are getting eight grams of fiber per day. I don't know that there's ever been a population in human history that's that low. And the high fiber consumers in these studies are getting 22 grams of fiber. So even the high fiber consumers are less than the minimum recommended amount. So from my perspective, found this science, this immersive science that I know that we're going to explore in even more detail, that includes fiber, that includes the microbiota, that includes the postbiotics like short chain fatty acids that are transformational from a health perspective. And that we're missing out on because we're choosing to forego the whole plant foods.
Dr. Nirala Jacobi:
And we've explored a lot of those topic on this podcast in the past, in terms of short chain fatty acids. And one of the things I often teach the practitioners that are following me and take my courses is that we are the custodians of our patients' microbiome and that we have a role to play in terms of what we prescribe and how long to keep patients on restrictive diets. And sometimes that can be very, it's tricky.
Dr. Nirala Jacobi:
And this is one of the reasons I wanted to talk to you is because our listeners right now, are thinking, "Yeah, that's great. But every time I eat some fiber, I get bloated, I get diarrhea or I have other digestive symptoms or other systemic symptoms." So I really wanted to address this issue of, I think your diet or your program is so powerful in that it could be like a post SIBO recovery kind of diet, where we move off of the FODMAP diet or the Bi-Phasic diet and move into the microbiome restoration part of this. And I think that is really exciting. This is something that I've been wanting to do, and now I don't have to do it because you wrote the book for me. So that's really helpful. But can you talk about some of the restrictive diets that you mention in your book, like the paleo diet, like the keto diet and their effect on the microbiome and how to really move off of that or out of that restrictive diet and how to stop reacting to foods that you think you're reacting to?
Dr. Bulsiewicz:
I think that the right place to start with this conversation is to establish the way that we build a diverse ecosystem, a diverse microbiome. And I know that your listeners are very highly educated. So they know that the measure of gut health is biodiversity. Look at any ecosystem. It could be the Great Barrier Reef, it could be the Amazon rainforest, or it could be your personal gut microbiome. In any ecosystem, biodiversity is a measure of health. It creates resilience. It creates something that is prepared to take on any sort of challenge that comes and can handle being perturbed. And so the way that we build biodiversity is to ensure that we are feeding as many different populations and species of bacteria, recognizing that it's mostly bacteria in the microbiome. It's the way that we build that biodiversity is to feed them, but they don't all eat the same thing. They have different dietary preferences.
Dr. Bulsiewicz:
There was a study that was out of Rutgers University that was very interesting because it talked about the idea of there being microbiota guilds. The idea of this guild basically means that there are specific teams of microbes that thrive on individual types of fiber, individual types of plants. And so when we look at how to build the biodiversity, we need to recognize these microbes are picky eaters and they don't all like the same thing. But many of them, their preferred food is fiber. Fiber is not just counted in grams. There's many different unique types. The biochemistry of fiber, if you look it up, it's incredibly complex. Complex to the point that we don't even have an estimate of how many varieties of fiber exist in nature. But suffice it to say, all plants contain fiber. Each plant has its own unique mix and blend of fiber and it will include prebiotic fiber, the type of fiber that feeds these microbes.
Dr. Bulsiewicz:
And so in the American Gut Project, which by the way, was an international study that included more than 40 countries and I would argue is the most well-positioned study for us to really start to make strong inferences about the connection between our diet and lifestyle and the health of our microbiome. In the American Gut Project, when they performed their analysis, they found a clearcut number one, most powerful indicator of a healthy gut. And that was the diversity of plants in your diet, which makes complete sense. When you eat a more diverse diet, you can get all of these different types of fiber from each type of plant. And that diversity within the diet translates into biodiversity within the microbiome. So that's one of the fundamental concepts of my book. I actually call it the golden rule in my book.
Dr. Bulsiewicz:
And it's very important to establish this idea when we start to move into talking about fad diets or restrictive diets, because, for example, take just one food, the black bean. If we talk about the black bean, there are specific microbe, again, going back to this idea that was presented out of Rutgers University, called the guild. There's this guild of microbes that thrives when you eat black beans. This is their preferred food. They grow stronger, they multiply, they are more powerfully represented within our microbiota. But the opposite is also true, that specific guild of microbes, if you don't feed them, just like us, just like us humans, if they're not fed, they starve, they grow weaker, they recede. At some point, they become incapable of doing the job that we're asking them to do, which effectively makes it like they don't exist. And it's actually possible that they go extinct.
Dr. Bulsiewicz:
So the problem with these restrictive diets is that they stand directly in the face of the fundamental number one predictor of a healthy gut microbiome, which is the diversity of plants in your diet. I've never heard of a ketogenic diet that didn't advocate for the restriction of specific food groups, particularly fruit. And the paleo diet, at its core, is defined by the absence of whole grains and legumes. But these aren't the only two diets. I think that it's worth also talking about the gluten-free diet, where we have in the United States, one in three people in some cities like New York or LA, I would say probably 60 or 70% of people are going gluten-free, even though they don't have celiac disease. I would also include the low FODMAP diet, not in the way that it was developed at Monash University, but instead in the way that it's being implemented in the real world, which is that most people who go on the low FODMAP diet don't understand the complexities of the low FODMAP diet and they're just permanently restricting FODMAPs.
Dr. Bulsiewicz:
And so when we study these things, going down the line, each one, whether it be keto or paleo or gluten-free or low FODMAP diet, what we ended up finding is that because of the restrictive nature of these diets, we're actually causing harm to the microbiome if you sustain them in the longterm. Because again, when you remove food groups and what I worry about the most is not someone who says, "I don't like blueberries, but I still eat raspberries and blackberries and strawberries." I'm not as worried about that. I'm worried about the person who says, "I'm not eating any fruit at all, or I'm eliminating legumes entirely, and whole grains." Well, those are foundational foods for our microbiome. There's a reason why these foods are connected to longevity. There's a reason why these foods reduce our risk of heart disease and cancer.
Dr. Bulsiewicz:
And so when we talk about these fad diets, that's what I worry, is that when we restrict our diet on any level, we are potentially causing harm to our microbiome. And we need to acknowledge that this is the way, this is biology. This is the way that the process works. We will each have our own unique way of implementing this core concept. We're not meant to eat the exact same diet, but there's literally hundreds of thousands of edible plants on our planet. So you don't need to worry about overlapping and eating the same thing as another person. You just need to implement this core concept, which is as much biodiversity within your diet to maximize the biodiversity within your microbiome.
Dr. Nirala Jacobi:
So in your book, you also have a chapter on sensitive digestion. And I think, what you've just mentioned, I think everyone understands that restricted diets really are meant to be short term. They're not meant to be forever, but I personally also have patients who it's been incredibly slow for them to get off of even a low FODMAP diet or a low salicylate diet or histamine seems to be a big deal. And so we're sort of at that interface where people still have dysbiosis or this term dysbiosis that we use in alternative health care, where there's just an imbalance in their microbiome that doesn't really allow them to venture very far out of their diet without triggering some symptoms. How do you propose to get over that hurdle? Let's focus on, let's say histamine intolerance.
Dr. Bulsiewicz:
Okay. So before diving into histamine intolerance, just to speak broadly about food sensitivities for a moment, food sensitivities are the product of a damaged gut microbiome. People who have a healthy gut do not have food sensitivities. It's always evidence of a damaged gut microbiome. And the issue is that we rely on our microbes to process and digest our food, particularly when it comes to complex carbohydrates. And the microbes have these enzymes that are called glycoside hydrolases. All right. We, big strong humans, as much as we view ourselves as being God-like on this planet, the top of the food chain, as much as we see ourselves that way, it's kind of humbling to realize how much we depend on these microbes to support and help us. We have 17 glycoside hydrolases. Okay. So think of this for a moment and put this into perspective. Humans have 17 glycoside hydrolases. We lack the enzymes necessary to take on the really complex polysaccharides, the really complex carbohydrates like fiber.
Dr. Bulsiewicz:
These gut microbes inside our microbiome, the estimates are that they have in the neighborhood of 60,000 glycoside hydrolase enzymes, all unique. They're effectively tools for the process of digesting our food for breaking down nutrients. And so 60,000 in the microbiome, 17 in us humans. If we were sterile creatures, we would be completely incapable of dealing with these foods. But because we have our microbiome to support us, and there's never been a moment in human history that we didn't have our microbiome supporting us, we evolved with them. Because we have them with us, that's their job. Their job is to step up and help us to process and digest these foods. The problem is that when we damage the gut, they become less capable of processing and digesting those foods because they may lack the enzymes or at least the amount of enzymes necessary to actually accomplish the task.
Dr. Bulsiewicz:
So when people suffer with gas, bloating, discomfort after a meal, even change in bowel habits, I mean, there are some cases that we could get into, but there's very little evidence that that is categorically info inflammation. It's not. What that is, is it's sloppy digestion. It's these microbes struggling to process and digest your food. And as a result, it leads to, as expected with soppy digestion, it leads to gas and bloating. It can activate the 500 million nerves inside your gut, and it can alter your gut motility and cause diarrhea or constipation in some cases. So that's the foundation of what's going on in your gut. But the key is that it's not locked in, it's adaptable. The gut can be trained. The gut is like a muscle. It can be made stronger. So to use an analogy of a gym, if I want to be as strong as possible, I walk into that gym on the first day and I don't grab the heaviest weight in the gym because I'm not ready for that yet.
Dr. Bulsiewicz:
I grabbed the appropriate amount of weight relative to my personal strength. And that weight depends on which exercise we're talking about and how strong that particular muscle group is. So I may be better at curling weights or working on my triceps and I may not be as good at bench press and working on my chest. I have to tailor to my own personal strengths and weaknesses. And that's kind of what it's like when we're dealing with our gut and we're trying to heal the gut, which is that our gut has strengths and weaknesses. In the case of using the gym analogy, if you're not someone who is used to eating beans, having the five bean chili is like walking into the gym and grabbing the heaviest weight that exists. You're just not ready for that yet.
Dr. Bulsiewicz:
You need to work your way up. And the weakness for you maybe with the beans and you may be perfectly fine with whole grains. But then your friend over there, they may struggle with garlic and onions and other aromatic foods, or they may struggle with whole grains. And they may actually be pretty good with beans. We have our own personal strengths and weaknesses within our gut microbiome and our gut can be trained. And the key is to do the appropriate amount of work to make it stronger, without crossing that line where we've done more than our gut is capable of handling. And as a result, we suffer the consequences. And for some people, it's not even about going to the gym. For some people who have a damaged gut, it needs to be more like rehab.
Dr. Bulsiewicz:
If I injure my shoulder, I'm not going to the gym and grabbing weights to lift above my head. If I injured my shoulder, I go to a physical therapist and I'm back to the fundamentals. And the fundamentals basically means I'm just doing exercises so that hopefully I can restore that function where I can lift my arm above my head, just my arm, let alone any weight.
Dr. Bulsiewicz:
But once you restore that function, then you're rolling where you can then go back to the gym and start lifting weights above your head again, starting super low and working your way up over time. So the concept from my perspective is about identifying the strengths and weaknesses within your gut. And this is something that oftentimes does require, if you read my book there's right in the front, literally one of the first paragraphs says that this book may need to be implemented under the guidance of a registered dietician or under the guidance of a healthcare practitioner in order for you to be successful. Because I don't expect people to take this core concept and then be able to fix all their problems on their own. What I expect is that they're going to use this fundamental core concept and they're going to work with their care practitioner to ultimately heal their gut. And when they heal their gut, they have the ability to restore that function, to get those digestive enzymes back and to become capable of processing and digesting those foods again.
Dr. Nirala Jacobi:
Do you have SIBO and want to learn how to help yourself? The SIBO success plan is now available from theSIBOdoctor.com. In this highly anticipated plan, you'll learn my tried and proven method to treat SIBO, including home treatments, online dispensary guides, diet handouts, and much, much more. Already being treated by a practitioner? No problem. The SIBO success plan is designed as a standalone program or to work under the care of a practitioner. Become a SIBO savvy patient and beat SIBO for good. For more info, go to www.theSIBOdoctor.com.